Together with the Goddess of Hair mask, I also acquired shampoo, but not ordinary, but solid – in the form of a washer. Below is my story about getting acquainted with the new format of hair shampoos.
The manufacturer (USA) promises an economical format of shampoo without preservatives, without which it can not do in a journey or gym. The shampoo has a luxurious aroma of rose and vanilla in combination with a herbal blend. Mint stimulates the scalp, tea tree and rosemary prevent dandruff and help get rid of the existing one.
Packaging and appearance
The shampoo is presented in a very unusual, but convenient format – it is solid, in the form of a flat oval shaybochki. Sold in a simple paper bag with a label. But for ease of use, I bought a special tin jar for shampoo, in which it is convenient to store it in the bathroom and it does not soak. Shampoo weight – 55 g.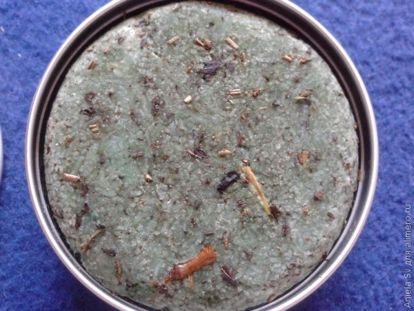 Shaybochka light green color with numerous inclusions of parts of herbs. The shampoo fragrance is very pleasant, fresh, unobtrusive, I don't feel it on my hair after washing. The shampoo is very economical – I use it for a month, and it is still as good as new!
To get the foam, it is necessary to wet the shaybochka, lather your hands and transfer the foam to the head – it was a little unusual for me to wash my head for the first time in this way, but I quickly got used to it. During soaping I was very afraid that the falling off parts of the grass would get stuck in my hair, but this did not happen, they are easily washed out.
I noticed that the shampoo does not give such a rich foam as ordinary liquid, but still it is enough to wash the head. Hair shampoo washes well, does not dry the scalp. But I also noticed that if you use this shampoo for several days in a row, your hair dries a little, so I try to alternate the shampoo with another.
I bought this shampoo in the hope that I could wash my hair less often, but this did not happen – the shampoo does not affect the prolongation of cleanliness.
Ingredients: SLS, rosemary, nettle, water, tea tree powder, peppermint, rose absolute, chamomile oil, vanilla absolute. The full composition is visible in the photo.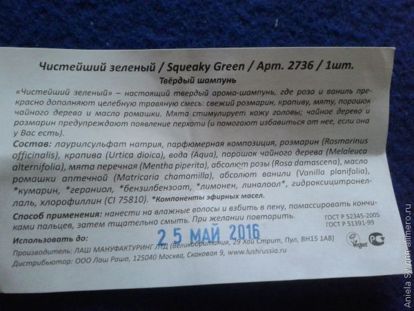 My opinion
I liked the shampoo. I love to try new and not afraid of uncharted formats. This shampoo was not worse than the classic, and the natural composition is captivating. Maybe next time I will get some other solid shampoo from Lush, but for now I have to spend this one, which is enough for me for a very long time! Cost – 440 rubles.