I have been blonde for many years. I thought I would never change my hair color. But the moment came when I really wanted to return my natural light blond color. I picked up the paint of a similar shade and began to wait for the first centimeters to grow.
As it turned out, the transition between my color and dyed was clearly visible. I decided to save the situation with the help of gentle tint. Since I used Acme Color Ashberry hair color, I also decided to try the same balm for the balm.
However, finding it on sale is not easy. Having run around all the supermarkets and shops with cosmetics, I found him in a small shop near my house. I chose the shade of blond, in tone with the paint, which I used earlier. The price of a tint balm is low – about 60 rubles (15 UAH).
Packing and composition
The product is packaged in a 200 ml plastic bottle. The bottle fits comfortably in your hand, it is easy to open with one finger movement. The label shows a strand of hair of a selected shade. Also provides information on the use of funds and its composition. Surprisingly, there are not so many components:

Surprisingly, the expiration date of a balm is not 3 years, as is usually the case with similar products, but only 18 months.
Apply a balm to be sure to wash your hair on dry hair. Depending on the desired intensity of the color, leaving it on the hair is necessary for 20-50 minutes. After the end of this time, it is necessary to thoroughly wash off the balm under running warm water until it becomes transparent.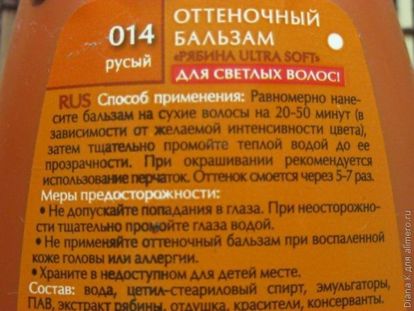 First impression
Balm has a pleasant, subtle aroma, liquid consistency and dark chocolate color. Before the first use of the balm, I was afraid that the hair would become too dark, so I applied the product for 20 minutes. When I washed the balm, I felt that my hair was very soft and pleasant to the touch.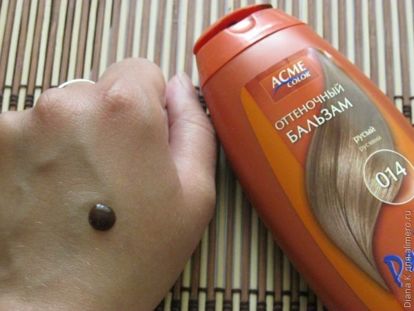 Looking at myself in the mirror, I realized that I was afraid of a dark color for nothing. My color has hardly changed, the transition was still visible. True, the hair has become very smooth, shiny and voluminous. After that, I applied the product for 50 minutes. But even during this time the hair was not painted very brightly. I really liked it, because I did not have a goal to change drastically.
He smoothed the transition between shades well. Hair got more saturated color. And what kind of hair after it is pleasant to the touch, I can not give you! Just like after salon procedures.
Have you used tint balms?