The other day I went to the hardware store to buy washing powder, but my attention was attracted by the stand with the cosmetics of the Grandmother Agafya brand. Coming closer, I saw that he was all packed with 100 ml bags of various cosmetic products, and their prices did not rise above 20-30 rubles! Naturally, I took myself a couple of products.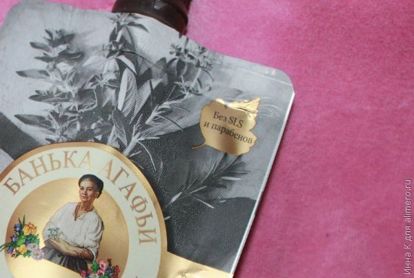 I bought myself a Seven-strong hair mask, in which there are as many as 7 healing components.
Never before saw Grandmother Agafya in a bag. The packaging is soft, sometimes even fruit puree is sold with a screw cap.
It turned out that using it is very convenient, much easier than a jar. The smooth lid of the jar is sometimes difficult to unscrew, and this one has a thread. You press a bag, and the necessary amount of money easily appears on the palm. Again, it is spent sparingly, you can't squeeze out the excess.
Properties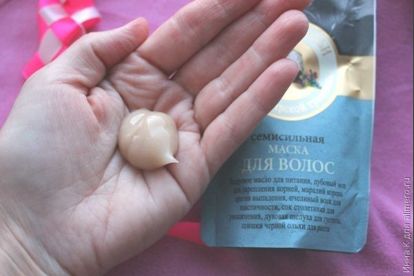 In the evening I washed my hair and put a mask on my hair. The consistency of the tool pleased – rather thick, does not spread. Color – swamp. The smell is not quite clear to me, but pleasant, something herbal. Before that, I had a grandmother's burdock mask and I did not actively like her herbal scent, and this one does not smell so sharply.
The mask is distributed through the hair easily and quickly washed off. You need to keep it for 3-5 minutes and this time is quite enough. After applying the product the hair has become soft and docile. Even wet hair, I was able to easily comb, and dry, and they did become obedient and shiny.

As in all the tools of Grandmother Agafia, there are no parabens and SLS in it, which is what is written on the front side of the package. The list of ingredients is very long and it contains mostly only various oils and plant extracts, which is good news.
It is gratifying that for such a good product with a volume of 100 ml I gave only 22 p.
After applying the tools, only positive impressions remained. Hair became soft, smooth, shiny. Sometimes, after applying masks, you have to wash your head more often, but after grandmother it doesn't, the hair did not become greasy and heavy. And if my roots strengthen and hair growth will be stimulated, as promised on the package, it will be even better. 🙂
I noticed no cons.
Have you seen such bags for sale?