I love the smell of rosemary. He is a bit bitter. It resembles the smell of eucalyptus, but in my opinion, more refined.
What is rosemary?

Rosemary is an evergreen shrub with blue, purple, white flowers depending on the variety. Refers to medicinal plants.
I know for a long time that essential oils can be an excellent addition or replacement of perfume. In order not to invent a basis for dilution of the essential oil, I put it on my hair. I add a few drops in a shampoo or conditioner balsam, and my hair holds a subtle scent for a long time.
Rosemary oil not only adds flavor, but also helps improve hair growth and give it shine. To do this, simply add the oil in the shampoo. In order to get the effect, it is necessary to ensure contact of the essential oil with the hair for at least half an hour.
Again, only essential oil should not be applied. It is better to add two or three drops to the hair mask. For dry hair, this will be an oil-based mask; for oily, from infusion of herbs or yeast.
Being the owner of long dry hair, I take 50-70 grams of olive oil, add raw egg yolk, 3-4 drops of rosemary oil and carefully rub everything. Olive oil for the mask is used warm, then the sensations are more pleasant, and the smell of the essential oil is more pronounced.
I cover my head with a shower cap, and on top – with a towel. The duration of the procedure is 30-50 minutes. After my hair shampoo (without the addition of rosemary) and thoroughly rinsed.
As a result, the hair is shiny and smells good. If the procedure is repeated weekly for a month, they will become stronger and healthier.
Rosemary oil application
Rosemary oil has a beneficial effect not only on the hair. It is also used in cosmetology to reduce oily skin, treatment of acne, scars resorption.
The essential oil of this plant stimulates mental activity, has a positive effect on the immune system and has a local anesthetic effect. It can be added to bath water, creams and lotions.
Caution! Essential oil

When using any essential oil, be aware of some safety rules:
– Do not add a little more than specified in the recipe. An overdose of essential oil can cause headache, irritability, and in animals even epileptic seizures.
– with extreme caution, you should use essential oils for pregnant women. Although it is rosemary oil that is an exception – its light aroma helps to reduce nausea during toxicosis.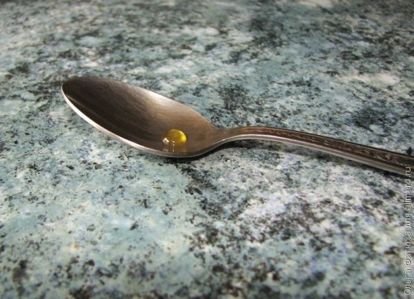 Only 2-3 drops and the beneficial effect of essential oil you provided.
And in cooking?

Dried rosemary leaves and apply in cooking. I consider it an advantage that its aroma is pronounced and does not change during heat treatment. Rosemary can be added to vegetables, eggs, mushrooms. But I especially like the combination of meat aroma and rosemary smell.
Interestingly, I am one such fan of this fragrant plant?