Having painted over quite recently not very good paint, which did not change my hair color in any way, this month I again had to go to the store for a new tube. I do not like it very much when girls have regrown roots, the hair color is not uniform and looks more like a palette of colors than a uniform tone.
The choice now, of course, is huge. At first, I was even confused. Before, I always painted with the same paint and didn't think at all about choosing, but just took the right box. For several months now I have been trying to find a dye that would color my hair in tune with my natural hair color. This was not a simple matter, as I thought at first.
The paint, which I eventually chose, attracted by its design, novelty and the sworn promise of the manufacturer not only not to spoil my hair, but even a little to treat it.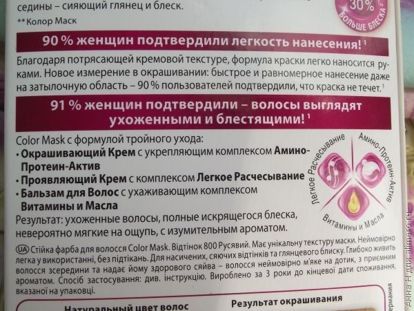 In the box I found:
– instruction
– gloves (pretty good quality!)
– coloring cream
– developing cream
I liked very much that according to the instructions, you do not need additional capacities. The coloring cream should be squeezed out into the developing cream and shaken everything vigorously for 40 seconds.
Before painting, my color was: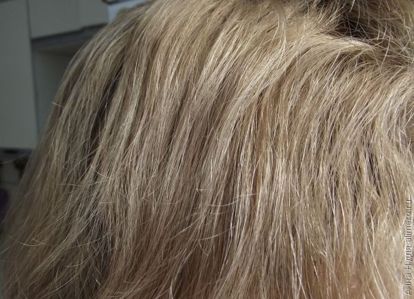 As he called, I do not know, but he did not suit me at all. According to the structure I have very thin hair, soft and curly. Blondation severely damaged them and now I am intensely engaged in treatment and recovery.
Paint is applied very easily. Indeed, like a mask for hair. Nothing flows, does not drip. The risk of staining clothes is reduced to zero. I painted myself, and I had no difficulties. After applying the scalp did not tingle, there was no irritation and redness. I really liked it. Smell of course, there is a chemical, but it is foolish to expect the fragrance of roses from the composition, which can change your hair color. The color change palette is absolutely true. You can safely navigate to it.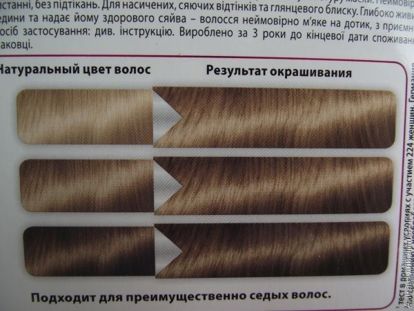 The first results appeared when washing hair. I noted that the hair became heavier and thicker. It is just great for my thin hair. The color became uniform from root to tip. Balm after staining is just awesome. The hair after it is soft, silky.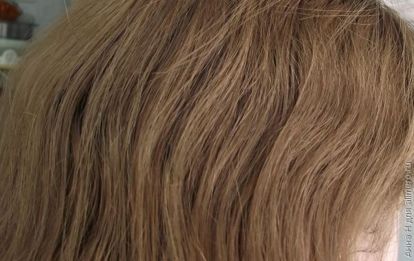 Finally, I want to say that now it is my paint for the near future. I am always drawn to experiments, but here I was smitten on the spot. The cost is not high: 34 hryvnia or 134 rubles. But I bought from the store action, how much it costs without a stock, I do not remember. Hair is not overwhelmed, it looks great, but it also glitters in the sun.
Have you tried the Color Mask from Schwarzkopf?