Until recently, when I mentioned the word pepper vodka, I only had associations with vodka, but after I stumbled upon a couple of articles, I learned that pepper vodka is also an excellent hair care product.
Pepper tincture can be purchased at the pharmacy or prepare yourself.


When do I need to use pepper vodka?


This is a proven folk remedy, but one should not think that it can work a miracle if nature rewards with sparse hair, or if hair problems are due to diseases of internal organs.
Pepper tincture should be used if the cause that affected the hair condition (weak roots, hair loss) is a temporary effect on the hair (seasonal avitaminosis, perm, use of chemical hair clarifiers and even improper hair-drying).
The basic principle of operation


Since the composition of the tincture includes vodka and red pepper, which contains capsaicins – substances that determine its vitality, when applied to the scalp, you can feel a burning sensation.
This is due to the fact that the burning ingredients irritate certain receptors and increase blood flow to the hair follicles, after which the damaged bulbs are restored and give rise to healthy hair.
Also, the tincture has a firming effect on healthy hair follicles and hair growth is accelerated.
Peppermint recipe


For cooking pepper vodka I needed:
Vodka – 250 ml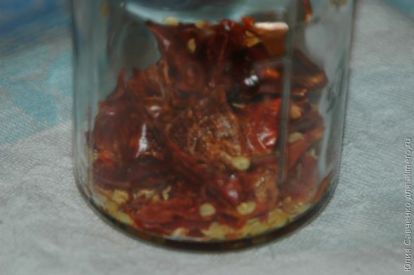 – – Pour vodka (you can also use alcohol, but then you will need to be diluted) and tightly close with a cork (I also used a dense layer of gauze)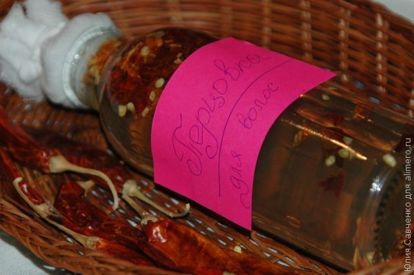 Leave in a dark place for 1.5-2 weeks. Then strain and use.
Recommendations for applying pepper vodka


Apply pepper must be on the skin of hair with massaging movements. You should feel a slight burning sensation, especially at the beginning of the procedure. If you feel a strong burning sensation, simply dilute the tincture.
Use gloves when applying and peeling off the pepper!
Avoid contact with mucous membranes!
On the scalp should not be any wounds and damage!



The minimum exposure time – 30 minutes, but you can leave for the whole night, wrap your head with a towel. To carry out such a procedure should be 2-3 times a week for 3 months.
It is not necessary to rub exclusively tincture into the skin; you can use it as part of numerous hair masks, adding oils, honey, yolks, kefir and much more.
I myself have just recently cooked a pepper vodka, so I can't say anything about personal experience yet, but I'll share my impressions of the results a little later.
A few days passed after the preparation of the pepper vodka, and she had already acquired a rich golden hue. Hurry to take advantage!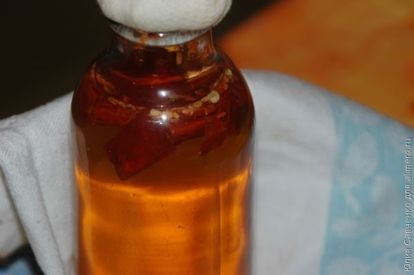 I advise everyone to try and, I hope, the effect will not take long!