The other day, in the store I was given a spray as a gift, which helps not to injure my hair during hot styling. For me, it was appropriate, as I always styled hair dryer. Now I share my impressions with you.
Purpose and method of application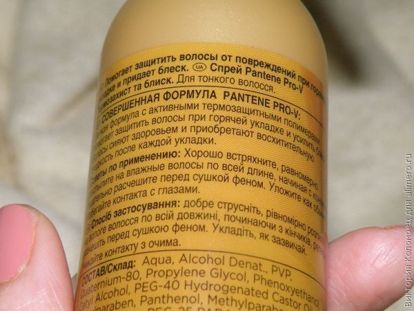 This spray is designed for hair that is often hot-laid. The manufacturer promises to protect from drying out and split ends, brittleness, as well as give a healthy shine and smoothness.
The application is quite easy. You just need to spray the liquid on wet hair and comb them. Next is the styling as usual.
The first thing I didn't like very much is the two types of alcohol that make up (cetyl and denat). Those who are well versed in cosmetics, avoid these components, in some countries they are generally prohibited.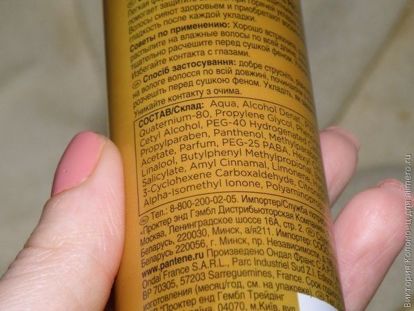 Reading the composition further, I found good components, namely: castor oil (peg 40), vitamin B group (peg 25 pub), as well as PVP – a component that has a lifting and moisturizing property, it forms a transparent shiny film and helps fix hair without additional styling.
Impressions and conclusions
The first thing you come across is packaging. The 150 ml bottle has a high and thin shape. Very convenient to take in the female and fragile hand. The button for spraying is not elastic, so you will not need much effort during the application. In order not to click on it accidentally, there is a special lock.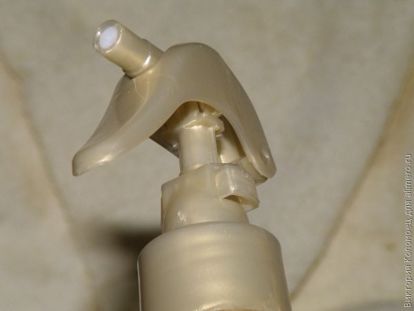 The smell of the spray is incredible, as in principle, and all cosmetics from this manufacturer. I don't quite like the way the sprayer works: there is a main jet and there are several smaller ones around. You have to immediately comb your hair, so that the tool does not flow and drip.
It really helps to make styling and additional funds for fixing is not required. The hair is soft, silky, glisten and smell. But the next day, you need to wash your hair again and re-do all the procedures, since at the roots they become fat and not beautiful.
Worth a spray of 160 rubles or 40 UAH. I think it is not worth it and you can find a more suitable product for the hair in composition and qualities.