In today's topic, I want to share my experience of using various moisturizing hair sprays.
I use these means almost 5 years. Prior to that, I thought about how to make dry hair more docile, smooth, without using fixation tools: varnishes, mousses, gels.
The looking after fitotvar for hair TM Pure Line
Once on the supermarket shelf I saw the TM Pure Line air conditioner. I was tempted by its low price (at that time it cost about 50 rubles, now it is 70 rubles). Applied to wet hair after washing, as well as dry every other day.
My hair began to look more well-groomed, not bristling, as if slightly fixed with varnish. I cannot say anything about the therapeutic effect, which was also promised by the manufacturer. I did not notice the difference. But what has become worse is for sure.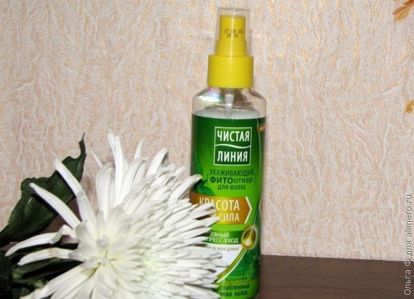 When the spray bottle was empty, I tried to buy a second one, but I could not. Spray disappeared from sale.
Multiphase moisturizing conditioner TM NUANCE
A few months later, she found an analogue – TM NUANCE multiphase moisturizing conditioner. It cost much more – about 320 rubles.
I liked its smell more – neutral, and also slightly oily consistency. Just what you need for dry tips.
Spray of this brand was created specifically for protection during thermal hair styling.
Curling and ironing, I use infrequently – bank hair. But when I was doing my wedding hairstyle, the curled hair, pre-moistened with air conditioning, acquired an amazing shine that cannot be distinguished from the natural one.
So especially those who do daily styling, I highly recommend.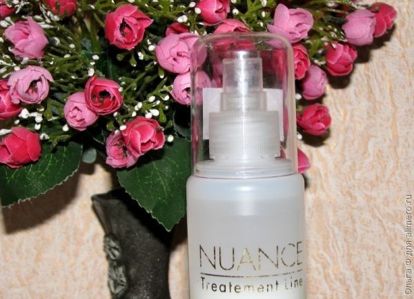 During constant use of this conditioner, the hair looked more healthy.
However, the intermediary from whom I acquired the TM NUANCE products ceased to engage in hair cosmetics. And again I went to look for an analogue.


Spray conditioner instant effect of TM SYOSS
At that time, TM SYOSS only entered the market. I bought this tool for 145 rubles. Impressions: light, almost weightless. Loved the dispenser – sprayed at a wide angle. The styling effect I received was no worse than from the TM NUANCE spray.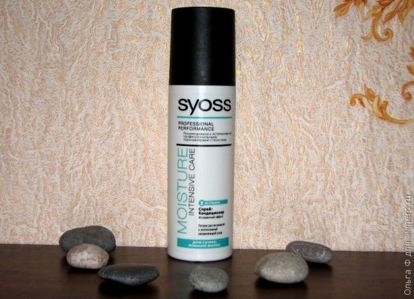 It may seem that all hair sprays are good, but it is not. Between the described purchases I tried other brands, for example, TM Gliss Kur, which I did not like categorically – he did not give any external effect to the well-groomed hair.
If you compare the above tools in terms of price-quality, then the first place I will give TM SYOSS – an excellent type of hair for a reasonable price.
If we take into account the fact that the air conditioner TM NUANCE had some therapeutic effect, and allow yourself not to think about the price, then it is No. 1 for quality.
And TM Pure Line is a good budget option. To tell the truth, if he had not disappeared from the sale, I would not have thought to look for analogues that I liked more.
So everything that is done is for the best!