Probably, every woman pays special attention to her hair. After all, lush, shiny and well-groomed hair always attracts men. And from this we feel like queens.
I used many hair products, but not oil. It seemed to me that the oil is hard to wash off and the hair from it quickly grow fat.
My friends who use different oils are very happy with them, they like the result from them. For this reason, they constantly tried to convince me. But I did not file and did not agree with their opinion.
Once, after an unsuccessful visit to a beauty salon, my hair began to fall out badly. One of my friends came to my rescue and made me a present – Organic Shop hair oil. I first threw him into the nightstand, but then decided to use it. Well, do not throw it away?
And now I will tell you about him.
The oil was packed in a cardboard box. It is a pity, but I have not survived it. Therefore, the photo will not.
Bottle of dark glass. Volume – 30 ml.
Instead of a cap, a convenient pipette.
The package was attached liner with recipes for the preparation of masks for hair, which include this oil.

Oil can be used in two forms: independently and as one of the components of the masks.
In pure form, I rub the oil into the hair roots and distribute it over the entire length. Then, I put a shower cap on my head or just an ordinary bag, and a towel on top. The manufacturer writes that the oil should remain on the hair for 15 minutes. But I kept him up to 2 hours.
Then the oil is washed off with shampoo and rinsed hair conditioner.
If the oil is used for masks, then you need to mix a few of its drops with the purchase mask in the store or cooked yourself.
I made the mask myself several times.
For her, I took kefir, egg yolk, mustard and butter. I mixed kefir with mustard, rubbed yolk with butter, and mixed everything.
When the mask was ready, rubbed it into the scalp and hair, wrapped the head first with a film, and then with a towel. Left for some time, 3-4 hours, it happened at night.
With purchased masks, the oil is not used.
Personal opinion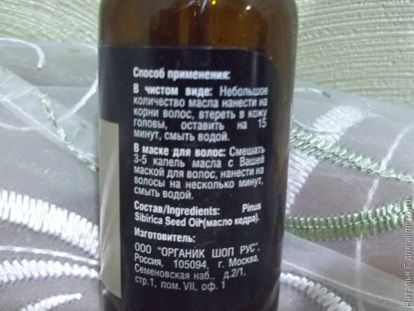 The aroma of oil is unobtrusive and not sharp. After flushing is not felt.
Oil is distributed through the hair easily and evenly.
Contrary to my beliefs, it is completely washed off from the hair without any problems. No oil film leaves. The hair is clean and soft.
Whether the oil has strengthened my hair is hard to say. They stopped falling out, but I took vitamins in combination with oil. What influenced more, vitamins or oil, I do not know.
By the way, the oil is very economical, just a few drops are enough.
After using one bottle of this oil, I did not notice any particular change in the hair. So it is not necessary to wait for an enchanting result.
If you use oil regularly, it will give your hair a well-groomed look. But this will not happen the first time.
The only change I noticed was that the hair became smoother, easier to comb after washing. Previously, they are a bit fuzzy. Although it is possible, this is an individual effect.