Today I want to tell you about the organic sea buckthorn shampoo. I bought it even in the winter, but just now I was ripe for a review.
By that time, I had already heard about this sea buckthorn series and wanted to try it. And when I saw a gorgeous bottle, by which I could not pass, I could not resist and bought it.
The bottle is a standard cylindrical shape, made of durable plastic. Her design, as you can see, is just great! On a blue background the bottles are drawn flowers and dragonflies. Looks bright, cute and attractive!
In the shower room shampoo looks glamorous.
The lid is comfortable. You can unscrew it or press the valve.
The aroma, of course, is magnificent, although I think it's an amateur.
It smells juicy and rich sea buckthorn with a slight sourness. For me, the smell is pleasant, delicate, insanely gentle, not intrusive and not chemical.
On the hair there is a halo of sea buckthorn aroma, only when they are wet. After drying, the smell disappears.
The consistency is not thick and not liquid, something is average. When applied to the hair slippery feel. It lathers perfectly, creates a rich dense foam.
Consumed very economically.
The color, of course, bright sea buckthorn.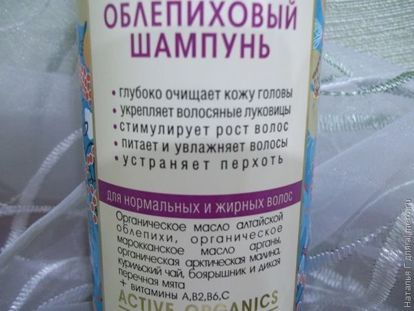 Shampoo properties
The composition is good and completely natural. All sorts of extracts and various oils.
And about the amazing properties and usefulness of sea buckthorn in general can not speak. I think everyone knows them. It is enriched with amino acids, vitamins and fatty acids (omega 3, 66, 9).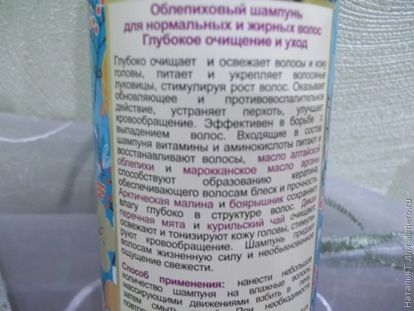 Personal opinion
During washing your hair is less confused. I can comb them without applying a balm. I tried to do it once, but still, I didn't do it anymore. Always use a balm to strengthen hair.
Despite the fact that the shampoo contains oils, it rinses the hair perfectly, does not get dirty, does not weigh down, there is no feeling of fat content.
After drying, the hair looks silky, airy and even slightly shiny. To the touch pleasant. Do not push and comb easily.
I also noticed that the hair becomes smoother and smoother, and after straightening it with a flat iron, it flows straight.
Unpleasant consequences, such as itching or dandruff, did not cause shampoo.
I use shampoo mostly after one or two days. For my hair, he came up! Well washes, leaving them soft. The tips do not dry, the whole length moisturizes.
I think I'll buy it again, especially since the price is acceptable – 56 hryvnia or 165 rubles.