Good night to readers of Alimero! According to good tradition, I want to share with you the idea of ​​a simple but pretty hairstyle. I found the idea on the Internet, but, as usual, without contributing to it, I could not 🙂
If you know how to weave a simple and reverse French braid, then you won't be able to make this hairstyle much easier. It took me about 7 minutes. This hairstyle will suit both little fashionistas for kindergarten and more adult girls to school or even on a first date.
We will need a comb with rare teeth for parting, a few thin elastics (I like silicone ones) and one thicker gum. If the hair is naughty, we need a spray with water.
So, get down to work 🙂 Carefully comb your hair. If necessary, sprinkle them with water. Parting from the forehead line to the area behind the ear. It should run diagonally, like this: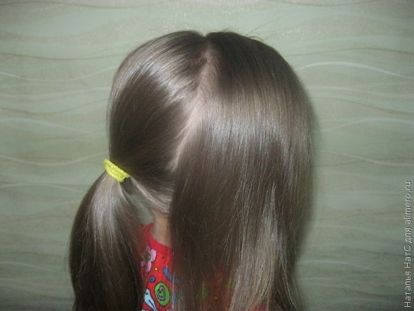 The remaining hair is collected in the tail, so that they do not interfere with weaving. We separate a small strand of hair from the forehead and begin to weave a French braid along the line of the forehead, picking up the strands on one side only, closer to the tail.
It is important that you pick up the strands across the entire width of the working area. If there are not picked up hairs, they will be visible, but we do not need it. Shift weaving to the forehead.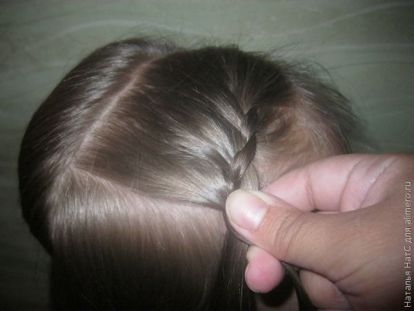 We drag in this way to the ear and weave to the end of the usual oblique. We make one more parting parallel to the first and again weave a French braid with a grab on one side. It is important that the braid covers the first parting. Spit should as if layered on each other. Like this: