I am not a special bow lover. I don't like it when I've been fried in childhood, and in fresh it smells too strong to eat it every day. That is why onions in my kitchen are an infrequent guest. But it was so until I understood: even if I do not like this vegetable, this does not mean that my hair does not like it either.
A bit of history
To begin with, I will say why I started a topic about hair and onions.
I used to have gorgeous hair, many asked what I was doing with them. I tried to laugh it off because the truth (I don't do anything!) Could upset girls who spent a lot of effort, time and money in the struggle for beauty.
In general, the hair pleased me until I became pregnant and did not give birth. Since then, they began to fall out intensively. Purchased and homemade masks, the constant change of shampoos did not give anything. Hair fell and fell. And then from one participant Alimero, I learned that the onion mask perfectly fights with hair loss.
Frankly, I heard about it before, but somehow I was scared that the smell from this vegetable disappears for a very long time. Many were afraid that the fragrance would take at least a month.
But again, the participant assured me that the smell appears only on wet hair, in other words, only after washing my hair. This calmed me down, and I decided on an onion mask.
The result appeared after the first mask! I noticed that the amount of hair that fell out was immediately reduced by a factor of 2. And after constant use, I almost stopped noticing my hair on the floor, carpet, and other places.
I don't remember the recipe for the very first mask, because then I read various recipes and tried them all. I will give several options.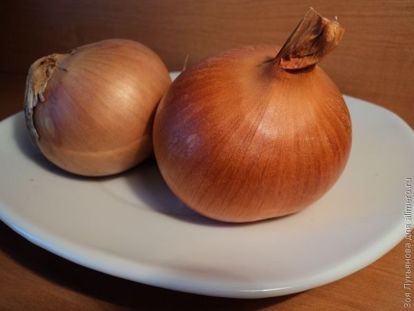 Onion mask for hair loss
Onion honey. Medium sized grated on a grater or chopped in a food processor, squeeze the juice, add a teaspoon of honey, rub into the hair roots and create a greenhouse effect, wrapping his head with a towel. After 30-40 minutes, wash off the mask with warm water and shampoo.
By the way, you need to apply this mask 2-3 times a week for 1-2 months, then you can take a break and resume if the hair condition worsens again.
Onion alcohol. Chop the onion, squeeze the juice, add a spoon of alcohol, put on the head, wrap with polyethylene and leave for an hour. Then wash it off.
Onion burdock yeast. Onion juice combined with a spoon of burdock oil, add the yeast (they must first be dissolved in 2 tablespoons. Warm water). Apply this mask on your hair and keep it for 30-60 minutes.
Onion kefir burdock oil yolk. Half a cup of kefir mix with 2 tbsp. l onion juice, 1 tsp. burdock oil and 1 yolk. Apply to hair. Wash off in an hour.
Onion mask for dandruff and hair growth
Onions can help to cope not only with hair loss, but also with their lack of growth, as well as dandruff. To prepare this mask you need 3-4 tbsp. l rub the onion juice into the hair roots. Then wrap the head with a towel. Wash off after 1 hour.
Hair dye bow
The properties of onions are truly awesome. So, it can be used for natural hair coloring. To do this, pour onion peel with a glass of hot water, boil, leave for 15-20 minutes, cool and strain. If the solution is rinsed with hair every day, they will become golden.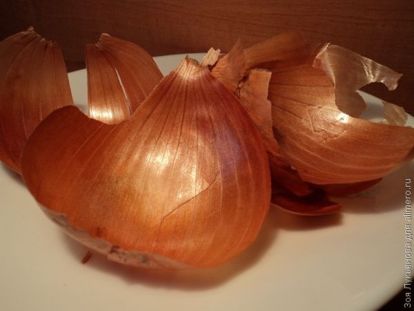 Extra bonus
Whatever mask you choose, besides the main effect, in any case, you will receive additional ones:
– improved hair growth
– nutrient saturation
– beautiful, shiny hair
How to deal with onion smell?
I did not have this problem. But perhaps it still depends on the sort of onion, because some girlfriends still complained about the fragrance after these masks. In this case, we can advise the following:
1. Stir a liter of water with 1 tbsp. l apple vinegar and rinse with this solution the hair after the onion mask.
2. When making an onion mask, add any essential oil or lemon juice.
I wish everyone to get rid of hair problems once and for all!