In my youth I could boast of my fluffy thick hair. But over the years, the situation began to change for the worse.
Hair problems
In grade 11, my hair began to fall out badly. On the comb, they remained beams. Of course, hair loss was associated with stress due to final exams. In the summer, the situation improved. Eating fresh fruits and vegetables has done its job. I washed my head a couple of times with a decoction of onion peel, and forgot about this great way to strengthen hair.
During the first pregnancy, I noticed that my hair was even better than before. Noted this fact in every pregnancy. But after the birth every time I had to get a haircut. Hair climbed mercilessly. They were everywhere: on a hairbrush, towel, clothes, and even on the plate of her husband. How many had to listen Wear a kerchief when you have to cook, otherwise shave!
Of course, these were comic threats, but the time has come to really think about the health of hair. Then I remembered the onion peel. I use two recipes based on it. One – to strengthen the hair, the other – to enhance growth.
A recipe for strengthening hair
I take 3 handfuls of onion peel, rinse it in a shower bowl and put it in a saucepan. It is advisable for these purposes to take an old saucepan, because of the husk left pink walls. Husk by eye is poured and cooked over low heat until the broth is bright red in color, as for coloring Easter eggs.
Broth rinse hair after each shampooing, keep it in the fridge. I do not rinse hair after broth. On a white towel may remain traces of onion broth. Hair becomes much softer and easier to comb.
Hair growth recipe
Then I learned another recipe based on onion peel and vodka. Husk thoroughly washed in drushlag, tightly folded in a liter jar to the top and pour vodka. After a few days you can use the product.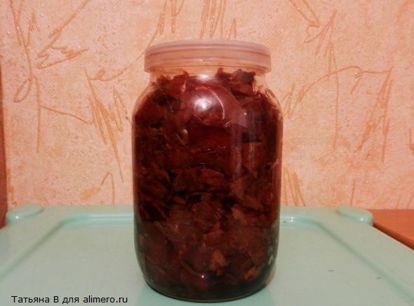 A piece of gauze moisten in tincture and lubricate the hair roots. The hair itself along the entire length should not be greased. Alcohol dries, and the hair is to anything (except for greasy hair). But the hair roots are fatter and they are not afraid of alcohol.
Then I cover my hair with polyethylene and wrap it with a handkerchief. The head immediately becomes warm. So I hatch about an hour and a half, you can and hour. During the procedure, it is better to wear an old bathrobe or tie a neck with a scarf. The adjustment leaks and leaves dark marks on the clothes.
Then I wash my head with ordinary shampoo, at the end I rinse it with cool water. The hair the next day is surprisingly light and does not get tangled when combing. Of course, for a tangible effect will require several procedures. I wash my head 2 times a week: 1 time with decoction, another time with alcohol tincture.
Has the hair color changed? He is naturally blond in nature and I did not notice any special changes. But on the comb now hair less. And if the husband gets the hair in a bowl of soup, then it's not mine, but the omnipresent cat (joke).
Onion Husk for Kids
Sometimes my head daughters broth husk. The older girl's hair was always weak. I had to use alcohol tincture. The effect is obvious. Her remedy helped her faster, the young body copes with problems better, you only need to pay attention a little.