Every woman wants her hair at any time to look great and have a healthy shine. Now on the shelves of many stores and pharmacies you can find a variety of different tools used for all types of hair. But I always choose natural assistants. Oak bark is one of their number.
How to dye your hair with oak bark
I decided to try its healing properties for the first time a couple of years ago. After a vacation at sea, my hair began to look unacceptable, and it was just necessary for me to return to my hair the same shine and brightness lost under the scorching sun. The recipe is surprisingly simple, but effective. Literally in two or three weeks, the result pleasantly surprised me.
For the broth, you need to take the bark, it is enough just one dining room, with a slide, a spoon, pour it 200 g boiling water and set aside for cooling for half an hour. Then it is necessary to strain the broth through a fine sieve and dilute it with clean water, so that the volume is enough to rinse the hair. To obtain the desired result, you need to rinse your hair at least once every two days.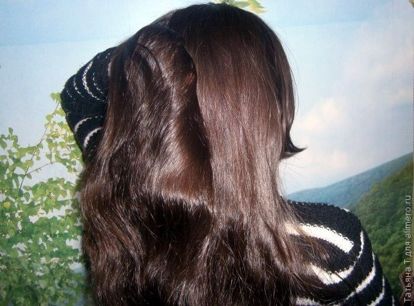 Treatment for problematic hair
Oak bark has a lot of healing properties and absolutely no contraindications, in any case, I don't know about them. Its decoction can be used to eliminate dandruff, treatment for seborrhea and other problems. I personally did not use this treatment, but my friend shared recipes that helped her out a lot. So:
1.To eliminate dandruff
On a liter of boiling water, you need to take half a cup of oak bark and onion peels, on a gentle fire for about one hour. Leave to cool and strain thoroughly. Ready infusion need to thoroughly lubricate and hair and scalp, cover with a plastic bag and wrap with a towel. After a couple of hours, wash your hair thoroughly.
2.If hair gets fat fast
You need oak bark, about 3 full tablespoons, pour boiling water, you need one liter, and keep on low heat for a quarter of an hour. After complete cooling, strain. This simple decoction needs not only to wash your hair, but also to rinse your hair for a couple of months, at least twice a week.
3. To improve hair growth
To get a decoction, you need 1 tablespoon, with a slide, a spoonful of bark and 1 of the same spoonful of dry black tea to mix well. Then pour this mixture with two glasses of boiling water. Leave the infusion for a quarter of an hour and then strain. Then add water, not cold, in the infusion to one liter. After the usual washing of the head, every time, rinse your hair with warm broth.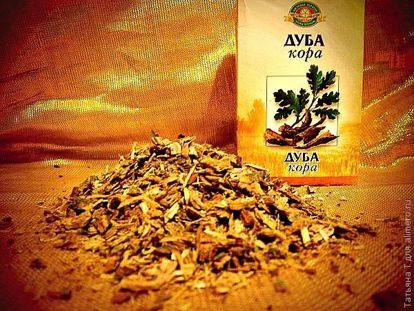 True treatment of oak bark does not quite fit girls with light curls who do not have the desire to change their shade. But the brown-haired women and brunettes from such broths will get the maximum benefit and pleasure from the results.
And what recipes using oak bark did you try?