I did not know what dandruff is until I had a second child. Mom told me this good news when I asked her to trim my tips. I was very upset. Not only did the hair begin to fall out, so also dandruff appeared.
What causes dandruff?
Doctors trichologists who treat hair and scalp, identify the following causes of dandruff:
one. Insufficient or improper care for the scalp. For example, a bad shampoo, too frequent use of a hair dryer or very hot water has a detrimental effect on the hair and irritates the scalp.
2 Stress. Do not be surprised, this is the case. The mental state of a person affects the appearance of a person and hair in particular.
3 Problems with the digestive tract. Wrong food spoils not only our health, but also hair.
four. Hormonal changes. Apparently, they were to blame in my case. Indeed, during pregnancy and after childbirth, hormonal changes cannot be avoided.
Of course, self-healing is not correct. But I did not have the opportunity to go to the trichologist, so I used the recipes of my mother. In her youth, she got rid of dandruff because of them.
If you are ready to devote time to daily procedures, this recipe should suit you. 4-5 tbsp. dry nettle pour 1 cup of water and boil in a water bath for 10 minutes.
The resulting broth must be cooled and filtered. Rub into scalp daily. I have blonde hair, so I mixed nettle with chamomile infusion to give a beautiful shade to the hair. In order not to brew the grass every time, I leave the broth the next day. But, of course, it is better to use fresh every time.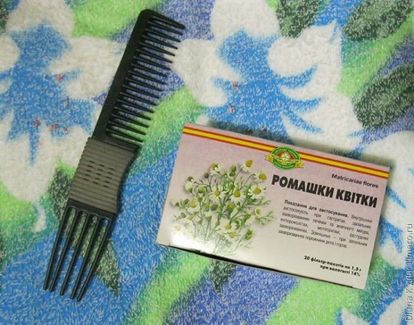 Dandruff mask
Well helps dandruff warm vegetable oil. Mom used fragrant vegetable oil, because there were no other stores on the shelves at that time. I replaced it with olive.
In a glass container must be mixed 4 tbsp. warm, almost hot, oil and juice of half a lemon. I prefer to reheat the oil in the microwave, and not in a water bath, as my mother advised. The resulting mixture should be rubbed with fingertips into the scalp (do it carefully, so as not to smear everything around with fat), close the top with cling film and wrap the head with a towel.
Keep the mask on the hair must be at least an hour, then wash your hair with shampoo. I made this mask twice a week. Hair after it is so pleasant to the touch!
Usually I do not trust folk methods, but I managed to get rid of dandruff thanks to them.
And what effective dandruff remedies do you know?