My daughter has too sensitive scalp, it does not work for a long time to use one shampoo. Dandruff appears. We tried a huge number of different tools, the result was, but then dandruff reappeared. All dandruff shampoos contain active chemical ingredients, which is completely undesirable for a child. Therefore, we decided to turn to the proven old-fashioned methods.
Keep your hair young
We stopped our choice on colorless henna. This does not color the hair and does not give any shades. Therefore, it is quite suitable for a children's head. An adult girl can use coloring henna, giving her hair different shades.
We decided on a remedy for dandruff, but over time it was more difficult. The daughter immediately stated that on school days she did not have free time to study her hair.
And now, the long-awaited Saturday has arrived. Towards evening, we began preparations for the procedure. Her daughter's hair is just below the waist and rather thick. Therefore, for the mask, we took three bags of henna. This mask cost us 45 rubles. for three things. Henna diluted with hot water, in a ratio of 1: 3. We used only ceramic dishes for this. Left for 10-15min for swelling. But be sure to keep the mixture cool.
After having washed out and dried the hair a bit, they began to apply a mask. The composition is distributed on the hair, focusing on the roots. Then they wrapped the head with food and film and warmed the top with a towel. Here in this form, my little woman went for about an hour.
This mixture was washed off, of course, very hard. Barely washed, and what is not washed – combed out with a comb when the hair is dry. Wet hair can not be combed to avoid injury.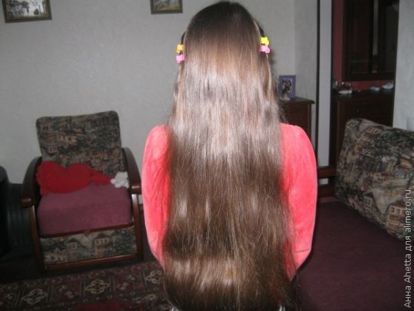 Not a trace of dandruff. Hair seemed thicker at times. Got a healthy shine. But, as you know, there is no limit to perfection. We plan at least once a week for a month to make such a miraculous mask.