A year and a half ago, I decided to grow hair. Before that, I went with a short haircut. I can not say that I am thinking about my head of hair day and night, but I still try to pay attention to it. There is a huge amount of hair care products. I love masks. No shampoo helps me as much as they do.
I think everyone knows about this recipe. Mustard mask – a classic of the genre. The only thing with her is to behave cautiously, because she can dry her hair.
So, 2 tablespoons of mustard, 2 tablespoons of warm water, 1 yolk, a spoonful of sugar mixed. I also add some oil, for example, olive or flax oil, but right now I have coconut oil, which I brought from vacation. I alternate this additive with amla oil.
The more sugar you put, the stronger the mask will be the oven. I heard a lot of stories that it is impossible to keep the mixture on the head, it burns the skin. But I have no such effect, honestly, it wasn't, maybe I'm some kind of skinhead. The mask enhances hair growth, but I'm not fond of it, so as not to dry them completely.
Masks from what is in the refrigerator
For my dry hair, this is a real salvation. Besides, kefir is almost always in my fridge. When I don't have much time, I just put it on my hair for half an hour before washing, and even in such a short time there is an effect. They become softer, better combed.
I often add egg, honey, and various oils to kefir, so that it becomes the basis of a full-fledged mask. I keep for an hour or two, if you have time. I know that some girls who are particularly in love with their hair even sleep with such masks so that they can work even better during the night. But it seems to me that a couple of hours is enough.
Cucumber and curd
Who would have thought that such a combination of products – an excellent mask for the hair. Cucumber needs to be cleaned, rubbed on a fine grater and mixed with 2-3 tablespoons of cottage cheese. I take not the driest that the resulting mixture was more plastic. Then it is convenient to apply it on hair. It is recommended to keep such a mask for about half an hour, but I keep it up to an hour and a half. I think that cucumber and cottage cheese during this time will not harm my hair.
Mask – Professional Care
Although I prefer homemade hair masks, I was very pleasantly surprised by this product, so now the Indola repair treatment mask has settled in my bathroom for a long time. It restores hair well, the effect is noticeable immediately after the first application.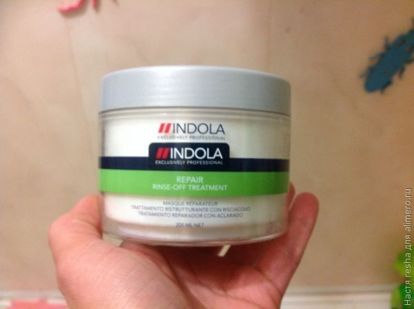 In my opinion, this is the first store mask that I really liked. She belongs to the professional care, I bought it in a store for hairdressers. As I explained, this is a line of budget funds, which is very popular.
I keep this mask for 10 minutes, after all, it is based not on natural products, but on chemistry. But my hair is quite favorable to silicones, as it turned out. I think that it should not be abused. Once a week is enough.