The mustard mask became my faithful companion for three months, when I was growing my hair vigorously. My hairdresser was skeptical at first, but after these months she was surprised at the result!
My goal was to grow my hair color and cut everything dyed. This mustard mask came to my aid. And I am very pleased with the result!
Enhanced hair growth is achieved due to irritation of the hair follicles. Imagine that they are sleeping with us, and we need to wake them up. For this, we need a mustard mask, which bakes the head, thereby causing blood to flow to our asleep hair follicles.
To prepare the mask you need:
– 2 tbsp. mustard powder
– 2 tbsp. hot water
– 1 egg yolk
– 1 tbsp. sea ​​buckthorn oil
– 1 tbsp. burdock oil
– 1 tsp. vitamin a
For the preparation of masks for hair, I use a plastic 200-gram jar of cream. Stir conveniently, and after use, you can immediately throw away.
And yet – a spoon, which I identified for cosmetics. Still, some ingredients and smells are not edible, so it is better to select separate dishes for masks.
Mustard powder must be poured into a jar. It is sold in grocery stores, usually in spice and seasoning departments.
Attention!
Ready-made mustard is not recommended for this mask, since it already contains various chemicals.
Pour hot (strongly warm) boiled water to the powder. Stir.
Add sugar and stir until smooth. The more sugar, the greater the burning effect.
Separate the yolk from the protein (the protein for the mask is not needed), add to the mass.
Next – warm cosmetic oils.
Oils can be used for this mask any (or one cosmetic oil), their volume should be in the mask 2 tablespoons.
I used sesame oil, jojoba oil, castor oil and others for such masks. This mask contains burdock oil with red pepper extract and sea buckthorn oil.
Few people know about the benefits for burdock hair (however, it is not suitable for everyone), and red pepper extract enhances the burning sensation on which the mask effect is based.
Attention!
Sea buckthorn oil can give a slight shade of redness. Since I have my hair brown with a reddish tinge, then I can safely use this oil. But I do not advise blondes =)
Cosmetic oils can be heated in a water bath. I use a simpler method – I pour the oil into a spoon and hold it over the hob until several small bubbles appear. But this method requires accuracy.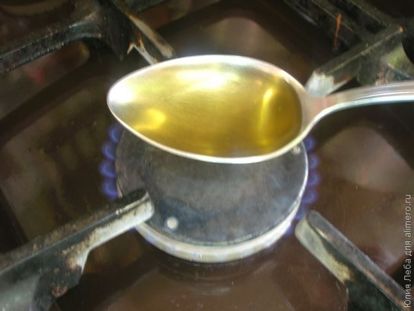 Add warmed burdock and sea buckthorn oil to the bulk and stir.
At the end of the run liquid vitamin A, which can be bought at the pharmacy. The trade name of vitamin A is retinol acetate.
P.S .: Vitamin A is not a required component of this mask. It can be replaced, for example, with vitamin E or simply ignored.
Thoroughly mix the whole mass to avoid lumps.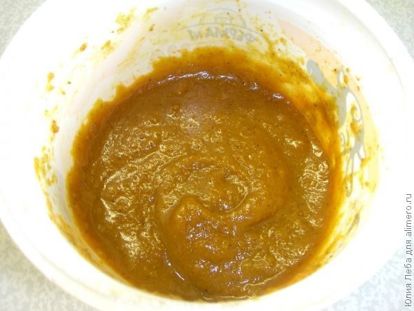 Apply the mask on the partings with a brush or rubbing it with your fingers.
Attention!
If you have dry hair, be careful. Mustard mask can dry hair, especially if you put a mask on the scalp, you get to the roots.
The temperature of the mask should be such as not to create discomfort to the skin, but not cooled down.
Put on a plastic cap (I pre-fasten the hair with crab) and wrap it in a towel to keep it warm.
The mask should bake the head for at least the first few minutes. But each of our bodies reacts differently. Someone may not respond at all, and someone else to burn much.
The first time you should not keep the mask more than 15-20 minutes. If everything is in order, the next time you can extend the process to 1 hour.
Then rinse the mask thoroughly with warm water (the temperature is closer to room temperature). And wash your hair with shampoo, or just use a conditioner balsam, if the hair was not very dirty.
Mustard mask is recommended to do 1 time per week (maximum – 2 times). To achieve the desired effect, the course of masks should be 2-3 months without a break.
There is another hair mask I tested, also on the basis of mustard. It can be attributed to the number of moisturizers.
The composition of the moisturizing hair mask:
– 1 tsp. mustard powder
– 1 egg yolk
– 1 tbsp. hair balm
Mix the ingredients and apply on hair for 1 hour. Wash off the mask with barely warm water. Expected effect – healthy and shiny hair.
Have you ever used mustard powder masks?