I already wrote about how my daughter and I made a cream of mummy for stretch marks. After that, we still have 6 pills, which we still did not know where to use. I must say that the mummy can be used in completely different ways:
1. Take inside
2. Make from it:
– cream for stretch marks
– hair mask
Since, due to a very specific smell, there is absolutely no desire to smear a mummy on your face, I decided to see how my hair would like it.
In fact, I did not find any sensible information about the active substances mumiyo and why it is so beneficial for a person. Where they collect it is not known for sure, the composition varies greatly, and whether it is present at all is a big question. Therefore, using it for beauty – a kind of lottery – will go / will not go.
Despite the fact that it was bought in a pharmacy for mere pennies, I liked the mummy hair mask. About the preparation and use – below.
How to make a mask
Just as in the preparation of ointment, it is necessary to dissolve the tablets. I dissolved 2 grams per cup of water. Water took boiled, slightly warm. Pills reluctantly disperse, but not as slowly as for a cream. After 20 minutes, get a glass of turbid dark brown liquid.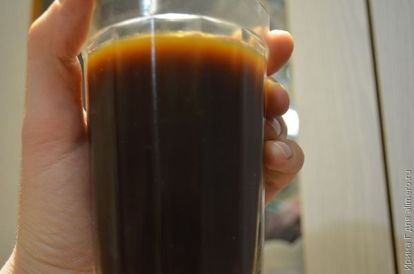 I applied the liquid first to the roots of the hair with a pipette, dividing the hair into sectors and carefully smearing each of them. Then she moistened hair along the entire length. At the time of application, I was very sorry that there was no empty bubble from under any spray at home. This would really simplify the task, because often the solution just flowed over the head.
By the way, before the procedure I advise you to wear a T-shirt, which is not a pity, and prepare a towel. Though the mummy washes off, it's still not worth the risk. After all the hair is moistened, hide it under the bag. We wrap the neck with a towel, because the mummy will strive to drain down the neck. From above, we wrap everything up with a scarf or scarf and hold the mask for about an hour, but more is possible.
This mask is washed off well, does not leave a film on the hair, does not weigh down. But I advise you to use a strong smell shampoo to kill the characteristic odor. After the hair was dry, it was saturated, alive and strong. At the expense of brilliance, I can't talk, because it's just enough for me, but I strongly advise all women with thin, thinned or lifeless hair. I will definitely make this mask more than once.