Honestly, I confess that I don't really like my hair. By nature, they are thin and absolutely straight, like sticks. And if you add on to this the fact that after using a hair dryer or during the winter cold, they also electrify in a terrible way, then you just want to cry.
This was one of the reasons why I cut my long hair. But this topic is not about that. I want to talk about my constant assistant, with whom I have not parted for almost 2 years, when I was still growing my hair. And that saved me from the dandelion on my head. It will be about the spray for hair with antistatic effect Winter protection against Avon.
His packaging is comfortable. Thin elongated tuba, flattened on both sides. Not very large in volume – 150 ml, but this is for the best – can fit into any handbag. Therefore, it is convenient to take it with you.
On a nose a spray – it is pressed easily, sprayed well. I have never hammered, which often happens with other spraying agents.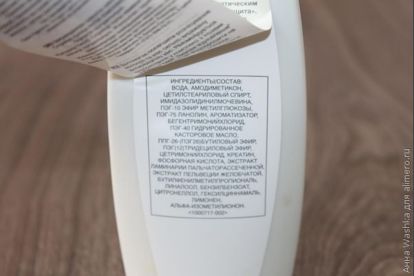 The original is the instruction. To read it, you need to pull the corner of the label and from glue it almost to the end. Under it will be the method of application and composition.
The smell of the spray is purely avon – sweet, know even sugary, pretty strong. But heavy notes disappear quickly and after that a light sweetish pleasant loop remains.

What the manufacturer promises

The main property of the spray is to remove static electricity from the hair. Additionally, the tool should make the hair more shiny and smooth, as well as give them moisture. They should also be easy to comb after applying it.
Spray is suitable for all types of hair. It can be applied on dry or wet hair.
My spray impressions

Most often, I sprayed on dry hair when I needed to urgently remove the statics from the hair and make them more docile. As a rule, this happened in winter, when the air in the rooms was over-dried by heating, and we were wearing wool sweaters and other electrifying things.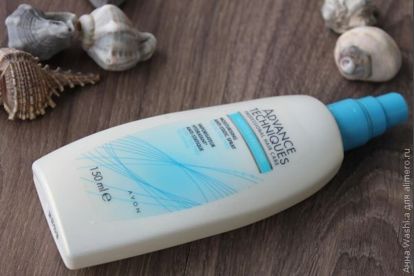 But my hair stands on end not only in the cold season, but also in summer, when air conditioners work or simply after drying with a hair dryer. Therefore, they had to use it at different times of the year.
I sprayed the spray on the hair and spread it with a comb over the entire length.
Electricity went away immediately! Imagine? And even after the spray had dried, the hair was not magnetised for a long time. Which is very, very saved me.
What can I say? I really liked the spray. And until I broke up with my long hair, I didn't part with him either. So if you have a problem with the electrification of hair, I can safely recommend it. Moreover, the price is not biting – only 150 rubles.