I have never had a short haircut. In childhood (like everyone, I guess) she dreamed of getting a haircut, and now I think that only long hair goes to me. But they have one problem – split ends. The causes of this phenomenon lie in their inadequate nutrition and hydration. The last 2 cm of hair suffer from brittleness. Especially in winter, when the air around is mostly dry.
Unfortunately, the only radical remedy for dry hair, if the problem has already appeared – hairdresser scissors. If the tips are cut, then it is already useless to make masks, they will not stick back. Hairdressers are advised to come to them 1 time in 2 months, but I often fail, I visit their institution 1 time in half a year.
Any problem should be prevented, also with broken tips. Long hair needs moisture and nutrition, so I try to regularly make special masks against this scourge.
How and what to do masks
For the manufacture of anti-fragility products should be used with high fat content. For example, various oils, dairy and dairy products. You can also use honey, gelatin, eggs.
We apply the usual mask along the entire length of the hair, and these means should be applied precisely – on the tips. If you spread them on your hair, your hair will become heavy and greasy.
I do not like to suffer for a long time with the manufacture of homemade personal care products. Therefore, I seek out such recipes so that everything is at hand. For example, here you only need a moisturizer and castor oil (or olive oil). Mix them in a ratio of 2 to 1 and put on the tips before washing your hair. All the ingredients of moisturizer penetrate the hair and nourish it.
At school I didn't like chemistry, but now I take a great interest in everyday life. For example, I recently learned that water that dries hair has an alkaline reaction, and to prevent this from happening, it is necessary to neutralize it after washing. To do this, take table vinegar, dilute it with water (1 to 10) and rinse your head after washing. The vinegar will conduct the neutralization reaction, and the tips will become soft and silky.
If the hair is completely in trouble and they are very fragile and dry, then you can prepare a high-calorie and fat bomb for them, i.e. Smear them with mayonnaise. The composition of the product naturally must be natural. The tips are smeared with mayonnaise and wrapped for half an hour. Then the product can be washed off.
With olive oil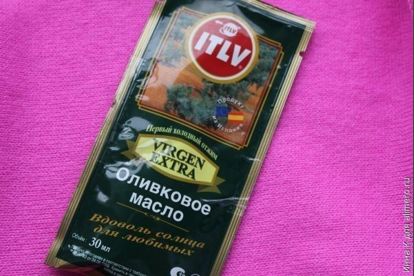 And this is my favorite tool, because time does not require at all. Let's say you're cooking dinner. Between times, pour a little olive oil onto your hand and wet the ends of your hair with it. You can hide them under a shower cap and wrap a towel on top.
I am not a fan of smearing food on my wife's head, and I don't see anything like that. The meaning of this procedure is that the oil protects the hair from the subsequent use of shampoo and hair dryer. Thereby preventing stratification.
Means are simple, the main thing is not to be lazy to use them!
And how do you fight split ends?