I love to care for my appearance with the help of folk remedies. I very rarely trust cosmetics from the store, as I often suffer from an allergic reaction to creams, make-up and even hair care products.
For many years I have been using hair masks for myself. My main goal is to give hair volume, because by nature my hair is not distinguished by density and opulence. The most common components of my masks are honey, eggs, milk and yeast. Also, each time I add a few drops of essential oils (mint, bergamot, ylang-ylang) or a little burdock, castor or olive oil to the prepared mask.
I want to share with readers the recipes of those means for giving splendor to the hair that I liked most of all.
Yeast Based Mask
For the preparation of this mask, I use dry baker's yeast. For one serving, I take one 11-gram sachet, which I spread into 2/3 cup of warm milk. It is necessary that the contents of the glass increase in volume, for this I leave it for 15 minutes in a warm oven.
Now add to the resulting mass of chicken eggs. For my hair just below the shoulders, 1 pc is enough. If you have longer hair, you can use two eggs, and you can take more milk. Also, as I said, add some oil of your choice.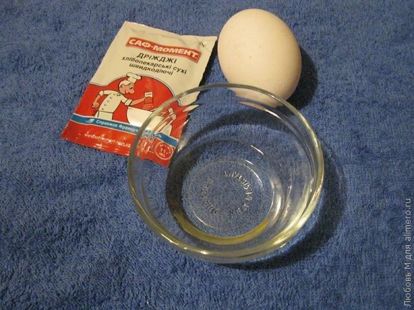 Apply this mask should be on dry hair for two or three hours before washing. Since the mask is liquid, do not apply it in an excessively large amount, otherwise it will give you a lot of inconvenience, flowing down your neck. Wash off the mask as usual and enjoy the result!
Bread mask for hair
This recipe was suggested to me by my godmother. I liked it because it is easy and simple to prepare, and requires a minimum of ingredients. You need only rye bread and mineral water.
Bread must be filled with mineral water so that all its top is covered. After 5-7 minutes, when the bread is soaked, the resulting gruel must be applied to the hair, then wrap the head with a towel for 2-3 hours. Hair after such a mask becomes shiny and lush. By the way, for oily hair, such a mask becomes a real salvation, since the hair after it remains clean much longer.
Finally I want to say that in order to preserve the volume, try to use less styling products for hair, except for the tips and quite a bit.
And what means for the volume of hair do you use?