Eyes are a mirror of the soul, hands give out age, and silicone in lips is sure to reward you with the lack of sexuality and give you an unprecedented happiness so far. Famous sayings, agree?
Unfortunately, it is difficult to confirm the truthfulness of everyone, since no matter how much I looked into my eyes, I did not notice anything special except changing the shape of the pupils and redness, and the explanations about hands and silicone will be in the same style.
The role of hair in total beauty
Rather, I would talk about the hair, and the role they play in what a girl looks like. If you paid attention to the comparison before and after, then you definitely agree with me about the fact that a good hairstyle is a significant plus. There may be a minimum of makeup on the face or its complete absence, but if an emphasis is placed here, this is already the key to success.
Hair is a wonderful decoration that is given by nature and it must be used. If you have an objection about the fact that the hair may be brittle, sparse, split, falling out or thin, I will tell you in reply, this is not a problem! After all, you can always find a way out and change the cons to color pluses.

Step one and second
Start with proper nutrition. Hair and nails are the first indicators of the fact that your body is starving and it needs a complete set of all necessary substances. Pay attention to what you eat, increase the amount of healthy foods and reduce harmful ones. Your hair after a while will surely thankfully shine with a real brilliance.
The next step is a firming mask, a wonderful thing, as it allows you to further accelerate the desired effect. There are a huge number of options and everyone can choose for themselves those that are most liked.


Onion juice for those who are not too sensitive to odors
For example, my first experience in this area was quite extreme. Once upon a time in one women's magazine, I learned the secret of the beautiful hair of a famous singer. She talked about onion juice as the number one remedy … by giving your head an unpleasant smell, I'll add on my own.
I understand that beauty requires sacrifices, but I can say that they are sacrifices that can be quite pleasantly smelling. The principle of action of this wonderful remedy was as follows: the burning properties of onions stimulate the blood circulation of the scalp and improve the nutrition of the hair follicles, as a result we get beautiful hair over time.
Most likely, this will happen if the obstacles in your way do not stop you. The pronounced smell, especially when the hair wet – this is the biggest disadvantage that made me refuse to continue using this tool.

Step Two – Detailed
If you return to the pleasant and fragrant procedures in the campaign for a beautiful head of hair, then I would like to focus your attention on the mask that will make your hair smell for another two days after application:
Fragrant hair mask
Composition:
Yolks – 3 pieces
Grape seed oil –1 tablespoon
Castile soap – 1 tablespoon
Lemon juice – 1 tablespoon
Castor oil – 1 teaspoon
Chamomile decoction – 4-5 tablespoons (to the state of the desired consistency)
Sage Essential Oil – 4 Drops
All ingredients need to be mixed to obtain a homogeneous consistency and spread on damp hair. Cover the head with a bag and warm with a towel. Leave for 1 hour, then rinse with water and shampoo.
To strengthen the ends of the hair oil mask is perfect:
1 tablespoon burdock oil
1/2 tablespoon wheat germ oil
1/4 tablespoon of castor oil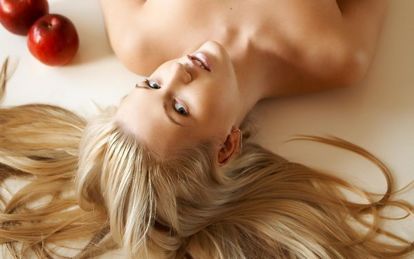 Mix all components and heat, for example, in a microwave oven. Apply to the ends, spread on the hair with a comb, wrap with a film and a warm towel. On the roots at the same time, you can use a different composition of the mask, so you get a double effect. After the procedure, wash off.
And one more recipe, which I have been using quite actively lately, can be called its budget, compared with the first, but no less effective.
After application, after a while I noticed a hedgehog in my hair, which was very funny stuck out in different directions and were simply not manageable.
Simple mask
Composition:
Burdock oil – 1 tablespoon
Yolk – 1
Lemon juice 2 tablespoons
Yeast – 1 tablespoon
Yeast dissolved in the juice of lemon, add the yolk and burdock oil. Stir until a uniform consistency and apply to hair. Then cover the head with a package and wrap with a towel. Hold for 1 hour and rinse with water and capnun.
And in summing up I would like to say that if you take a little time with your hair, pamper them with useful masks and vitamins, they in turn will not leave you without a gift – bright, brilliant and radiant in health.
Positive and beautiful hair!