I have always been interested in the topic of hair strengthening. I have no particular pomp and beauty of hair. Since my childhood, they were rare, dropped out of a lack of vitamins. But I began to fully care for them at a conscious age when I went to college.
My first experiments
Like all girls, I wanted to change something in my appearance. She decided to repaint, then make highlighting. Unfortunately, the paint really hurt my hair. After staining, they became dull, lifeless and brittle. Had to dye your hair say No! for a very long time! I resolutely got on my way to recovering my hair.
I tried shampoos for volume, hair growth, strengthening. But this is all wrong. Money is not small, but the result is zero. I tried to boil water so that it became softer and my hair fell out less. Then she began to collect information on friends, relatives, on the Internet about how to strengthen hair and accelerate their growth. It turned out that the masks, which can be prepared by yourself at home, perfectly help.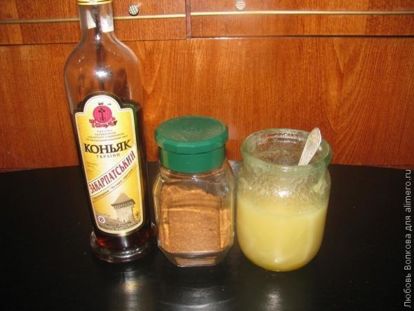 – freshly brewed coffee, can be instant
– 1 tablespoon of brandy (you can replace the whiskey or rum)
– 2 teaspoons of natural honey
– 2 egg yolks
– 1 tablespoon of burdock oil (can be replaced with castor, olive).
To make this mask you need to rub the yolks with honey, add coffee, brandy and butter. I apply this mixture on my hair, massaging my scalp well, because we need to strengthen the roots.
Then I put a plastic bag over my head and a heated terry towel on top. As an option, you can use the old wool cap, which is not a pity to use for such purposes, and in which you certainly will not go out in people. I leave the mask for an hour or two. Then I wash my hair with warm, running water with a small amount of shampoo.
Oil mask


– 1 tablespoon of jojoba oil (if finances do not allow, you can replace it with any other)
– 1 tablespoon of burdock or castor oil
– a few drops of essential oil at your discretion (rosemary, lavender, cinnamon, vanilla).
This mask can be kept on the hair for a long time. Since my hair was dry for a long time, this mask perfectly nourished and normalized them. I left it for the night, or for the whole day, if the situation allowed and nobody was at home.
I do not argue, the hair after this mask is unusually greasy. I wash it off with warm water with the cheapest shampoo, because dear sorry. But such grandmother shampoos, as I call them, are also capable of strengthening hair (Nettle, Clean Line, Chamomile).

– 2 tablespoons of fresh natural honey
– 2 tablespoons of aloe juice
I really love this mask for its simplicity, pleasant smell and good effect. You just need to mix the honey with aloe and gently rub into the scalp with massage movements. All also need to wrap your head with a bag, and on top – a terry towel or hat. Wash your head as always with warm running water and inexpensive shampoo.
Of course, it is impossible to list all the existing masks for hair growth and strengthening. I just chose the ones that I tried repeatedly and help me. After them, the hair shines, it is for them external feeding. But do not forget about nutrition. Proper nutrition and intake of a complex of vitamins is also an important step on the road to success!
And what kind of masks do you use, means for strengthening and growing hair?