Being the owner of long thin dyed hair, I pay a lot of attention to their appearance. I want them to, for all this, look healthy and lush.
You can make special hairstyles by tiers, which many hairdressers advised me, and which I did at one time; you can simply wear short hair like others do; even you can not lighten the hair, so as not to thin out even more.
I tried it all, at times I even liked it, but the dream of my childhood is long beautiful healthy hair, smooth and shiny. I wanted to achieve my goal. And it happened, only closer to 30 years.
I will share my experience, which is generally individual, but I think it can be useful to someone. I will write only about what I liked to use or on the effect produced on me after application.
Natural Recipes

I think most women are familiar with simple grandmother's methods. Not bypassed them and me. For fine hair are good masks with proteins and keratins. So I liked the mask of oatmeal.
I took only 3 tablespoons: milk, oatmeal, castor oil. Added to this vitamin A 2-3 drops and applied to wet hair, kept for half an hour. The hair became heavier, and the hairstyle looked lush.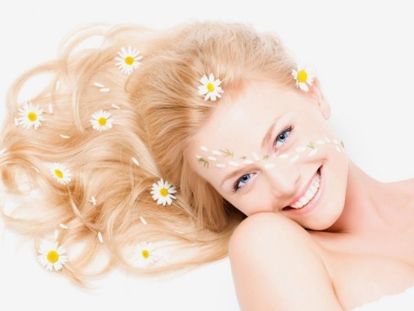 Periodic rinsing with a decoction of chamomile hair, despite the fact that I am blonde, has led to the fact that hair has also become more magnificent, acquired a luxurious shine and a pleasant golden hue.
Then I realized that the matter was not only in volume, the hair was not the most healthy looking, and began to look for other recipes for the beauty of hair.
Then I began to beat 1 tbsp 2 times a week. olive oil with 1 egg yolk, put the mixture on the hair and in a hat to do things / relax for 30 minutes. Then she washed her hair as usual. Hair is clearly gaining strength.
But most of all from folk recipes I liked the henna mask. Do not worry, colorless henna is involved in the matter!
From a bag of colorless henna poured with boiling water to a state of sour cream, from 1 tbsp. olive oil and 20 drops of lemon juice, make the infusion, by covering all of the above for 20 minutes. Then I put the resulting composition on the hair roots and put on a cap.
You can still wrap everything in a towel on top, I use a thin woolen shawl. I maintain such a mask for 20 minutes, wash it off with shampoo and gloves so that my nails do not stain, and I apply hair balm on the ends of the hair and also wash it off.
Now I have not enough 1 bag of henna for this mask, because my hair began to strengthen, we began to drop incomparably less, new follicles awoke (new hair began to grow – hair), the volume was constant even on long hair.
The only thing is that it is better to stop using this mask 2 weeks before dyeing, otherwise not any lasting dye after henna can dye your hair. And a couple of times on 2-3 strands, where there was more mixture, there remained a greenish tint, these are the errors with blond hair.
Masks from the counter

With a decrease in free time for personal care, I had to leave experiments with making masks from simple natural ingredients.
I just started buying ready-made masks for my hair type. I tried many of them, I'll dwell only on some that deserve attention.

Mask LUSH Marylin (Blondie). Ideal for dry thin hair. Heals, makes hair shiny, obedient, weighted, even brightens a little. You only need to keep it on your head for a long time, at least an hour and it is not cheap.
Blondy mask is applied to unwashed dry hair, after keeping the desired time, wash off with shampoo. For better moisturizing and prevention of dehydration of hair, I sometimes add olive oil to this mask.
I highly do not recommend LUSH shampoo with thin hair, when used for more than 1 month, it dries out hair, thinning it.
Natura Siberica hair mask to protect and restore hair. It is thick and is spent economically, fully justifies itself. Apparently the fact that there are no silicones in its composition, it has a beneficial effect on the hair and the volume does not appear for 1 day.
As a result, the hair is healthy, and this product is cheaper than the previous one.
But nevertheless I strove for a more natural hair mask, at the same time I didn't have the desire to brew something, mix, defend, wash for a long time.
Oil masks

They are great for bleached hair, because they quickly saturate hair with nutrients, restoring their structure and protecting it from the unhealthy effects of the weather. I began to use these masks a couple of years ago, putting them on the entire length of the hair.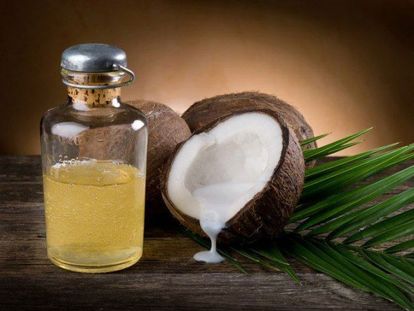 I keep under the cap from 5 minutes to 2 hours (depending on how much time I have), then my head with shampoo. I wash them easily, but my friends experienced difficulties in this and began to mix with hair conditioner.
Coconut oil smells good, but for me too cloying, almonds have a good effect on the hair roots, besides the whole length. Avocado oil is light compared to coconut, and shea butter, in my opinion, is the most nutritious.
A chic effect is achieved with argan oil or even less fatty olive. At one time I even experimented in a quick way, mixing different oils and adding to them a drop of essential oils and vitamins.
And now I found for myself what is most convenient for me to use when I have a short time and the desire to have beautiful hair. This is a silk infusion from the professional American brand CHI.
The consistency and sensations like oil, contains proteins of wheat, soy and natural silk. Apply it in small quantities on the hair after washing. I rub it in my palms and apply it evenly on the strands. And, which is especially important for me, silk infusion does not require flushing.
In this case, the pomp, strength of hair and shine are amazing.
Its price in Russia is high, but I buy it in America, which makes my cost of hair care in the price / quality ratio quite acceptable.
Periodically, I use the funds from all three groups, depending on the forces, time and material resources that I have at a certain moment.