Tastes do not argue, and yet, today I want to talk about what kind of hair is better to have: long or short? I will judge, of course, on my own. When I was in school, my hair was very long, below the waist. Mom always made me very beautiful hairstyles: she wove various braids, made buns, baskets, and tails.
I really wanted to walk with loose hair more often, especially in high school, but it seemed impossible. The lessons with her hair were uncomfortable, but they were confused so much that I then with tears in my eyes combed the mattes, which were formed during the day.
Experiments with appearance
When I finished school and felt adult and independent, the first thing I did was go to the hairdresser and cut my shoulders. I almost got kicked out of the house 🙂 And I appreciated the convenience of a medium-length haircut and after a couple of months I made myself a short, torn haircut.
Haircut impressions were not at all what I expected. Firstly, it was not easier to care for such a haircut, but much more difficult than medium-length hair, and even very long hair care seemed less complicated.
If long hair was enough to wash, dry, comb and look gorgeous, then you had to tinker with a short haircut. I had to wash my hair every day, and after washing I definitely had to blow my hair for a long time. If I didn't have time to wash my hair, my head looked very untidy.
After that, I often changed the haircuts, grew the hair up to the shoulder blades and again shears. I began to notice that men prefer longer hair. It was when I had hair below the shoulders that I received a lot of compliments from men. When I had a short haircut, the number of compliments I received was sharply reduced.
For several years I wore a bob haircut with lengthening. It seemed to me that I would not trade this haircut for any other. And yet, after some time I wanted long hair. Since then, I just cut off the dry tips. Perhaps, not only in long hair, but I began to feel more attractive and feminine. Sometimes I have thoughts to make a short haircut, but I drive them away.
How long is the hair better: long or short? I can not definitely answer this question. With long hair is easier in terms of styling. In general, they do not require it. Wavy hair, straight or even kucheryashki, they look in loose form very beautiful and always well-groomed, provided that the hair is healthy. But long hair can be very difficult to comb after sleeping or washing, and this is the disadvantage of such a length.
Short hair dries faster, it is much easier to comb them in both wet and dry condition. But with a short haircut, washing the hair and styling it with a hair dryer, brushing and styling products is much more difficult than long hair.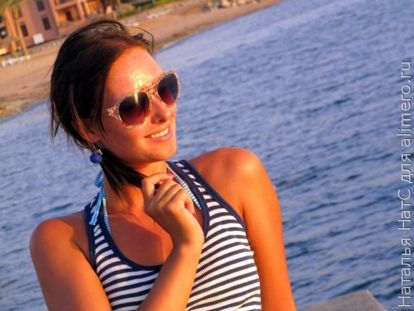 My conclusion: The best option is medium-length hair. They do not need complicated styling; combing them is much easier than long ones. If necessary, you can make a beautiful hairstyle on hair of medium length, which is not always possible to do on short hair.
Dear readers, tell me, how long is your hair more comfortable?