Today I want to talk about HealthDeauty's Israeli hair mask.
I first purchased it in Israel. On one of the excursions we were taken to a perfume shop. Sellers of this store began to actively offer tourists their national cosmetics. At that time I didn't even know about the existence of this cosmetics, so I didn't try to acquire it. But active tourists began to buy various cosmetics, and immediately infected me with their enthusiasm. I could not resist and decided to get this mask. About what day did not regret.
Back at the hotel, I immediately went to the bathroom and decided to try the properties of this mask. From the first time I did not see its special merits, and even a little upset.
But, after the third time of its use, I noticed changes in the structure of my hair in a positive direction, which pleased me, and I continued to use it.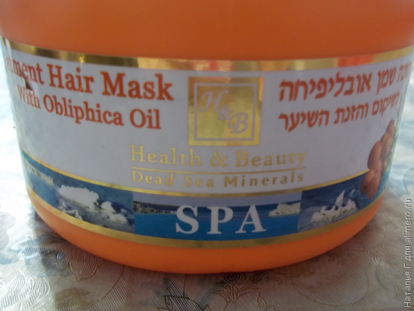 Packaging
Plastic jar, painted in a pleasantly light orange color, volume 250 ml. The lid is very easy to unscrew.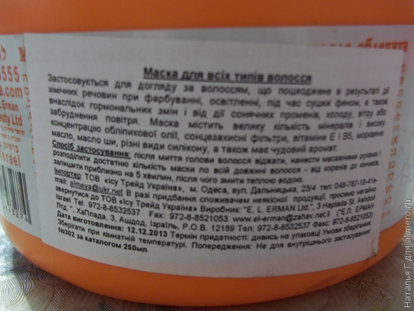 Description from the manufacturer
The mask is designed for hair care, is universal and is suitable for absolutely all types of hair.
Well restores hair after damage caused by chemical substances, for example, when lightening or perming.
Also, restores hair when using a hair dryer, due to hormonal changes and from the action of sunlight, wind and cold.
It consists of vitamins E and B5, a large number of minerals, sunscreens and various types of silicone.
And the main component is a high concentration of oils, such as sea buckthorn, carrot and shea.
How I use it
First, shampoo my head, then squeeze out my hair to get rid of the remaining water. I collect enough mask in my palm and distribute it over the entire length of hair – from root to tip. I leave it on the hair for approximately 5 minutes, after which I wash it off with warm water.
When washing it with my fingers, I run it through my hair, as if combing it so that it does not get tangled.
Personal opinion
The mask has a wonderful delicate aroma and after washing it on the hair the smell does not remain.
The consistency of thick cream, the structure of pale orange color.
Hair is combed very easily, after drying it doesn't push, becomes soft and silky.
I was pleased with my acquaintance with this product.
Storage conditions

Store at room temperature.