Hair Gel I rarely use. For fixing hairstyle more used to apply hairspray.
When my son grew up, he began to seriously take care of his appearance. He was worried about how to solve the problem with his naughty hair. Therefore, the son bought Isansa hair styling gel with vitamins B3.
For some time he used it to fix his hair, but then he decided to buy a second gel of the same company with the effect of wet hair. So in our house there were 2 hair styling gel. He used the second gel more often than the first. According to him, he better fixes his hair and less irritating the scalp.
Description of two gels
I didn't have a styling gel in my makeup bag at that time, so I also decided to try to improve my hairstyle with one of these hair products. And since the tube for hair products depicts a boy and a girl, then I thought it was a universal gel for both men and women.
At first I carefully reviewed the gels and read the instructions. Two hair styling gels have a very similar and beautiful design of tubes. They depict a guy and a girl with stylish hairstyles. Externally, the gels differ only in color and inscriptions on the tubes. Gels are sold without boxes.
Each tube of 150 ml of hair styling. Instructions and other information on the tube is written in a foreign language. And on the paper glued to the gel, information about the tool is written in Russian and Ukrainian languages. Produces gel German company Rossmann.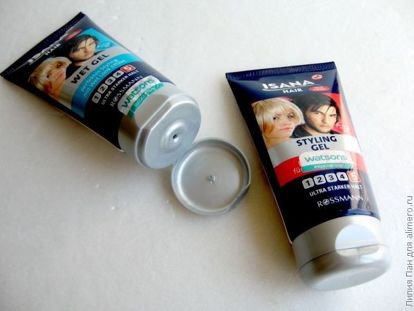 Smells of gels differ among themselves, but only slightly. They remind me of men's cologne odors. The inscription on a tube of gel promises that when using it, you can expect a long-term fixation of the hair without gluing. The composition of the gel is standard for products of this type, but without parabens.
My experience with Isansa gels
I do not like to use hair styling gels. But once I made myself a short haircut – square. Of course, after the barber shop, the new hairstyle looked great, but the next day it was necessary to do the styling. I usually make it a hair dryer. But even after the hair dryer hair was curled in the wrong direction. I remembered the styling gel and decided to use it.
According to the instructions, I applied the gel to the disobedient strands and gave them the desired shape. In that situation, the gel solved my problem with naughty hair. For some time I used styling gels, but then I stopped. The skin of the head from the use of this tool is dry and itchy.
Isansa gels really fix the hairstyle. However, with prolonged use, the scalp becomes dry.