I, like any woman, really love to care for my hair. I love this feeling of freshness, positive, my mood and self-esteem immediately increase. Strengthening hair – the most important thing in caring for them. To strengthen the hair, giving it shine and volume, elasticity and silkiness there are a few simple rules of care.
Washing hair

Do not use too hot or too cold water to wash your hair. The optimal temperature of water for washing, as well as for the whole body, is 36-37 degrees. I was convinced that it is impossible to use shampoo very often, because of this, leaching of nutrients and protective substances, moisture and vitamins occurs. And hair can weaken and lose its shine.
At the end of the wash, I always rinse my hair. To do this, I use boiled or thawed thawed water. It is known that due to chlorine and other impurities that are contained in tap water, hair may weaken.

Combing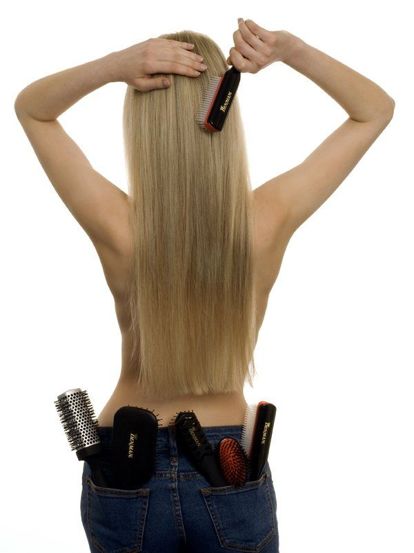 I never use metal brushes and combs. To strengthen the hair and plastic combs are not quite suitable. Therefore, I have natural wooden combs and brushes. It is also important that there are sufficient gaps between the teeth, and that the comb has a massage effect (that is, the teeth are equipped with small balls at the tips).

Hairstyles and styling
I prefer to walk with loose hair. This natural position allows my hair to feel with maximum comfort. All sorts of tight braids, brushes, tufts, tails and braids are sickened to me. All this is out of fashion and can be used only in an exceptional case.
I also try to dry my hair with a hair dryer very rarely, I do not use a curling iron at all, an iron straightener, and thermal rollers. The healthy condition of the hair also does not improve due to the use of sprays, foams, gels, varnishes and other chemical aids in hair styling, even if the manufacturers claim their sparing effect.

Diet



For healthy and beautiful hair, hungry diets are absolutely contraindicated. Yes, the slim figure will be provided, but at the same time the complexion will get an unhealthy shade, the skin will lose elasticity, and the hair will become dull, brittle, falling out. Nutrition should be rational and balanced, the diet should include a sufficient amount of vitamins, proteins and trace elements.
To smoke and drink alcoholic beverages, I have long ago sworn myself. I was convinced how any harmful addictions are reflected on the appearance. In general, to have beautiful and healthy hair, you just need to love yourself.