Previously, the problem of dry hair never bothered me. But, having experimented with many shampoos, I was confronted with the fact that the curls became rough, the ends fell out.
Many say that dry hair is transmitted genetically, but this is not my case. I attributed the dryness and brittleness of the hair to the wrong moments in the care and numerous experiments with cosmetic products, because not all of them fit me.
Having dealt with the reasons, I set about solving the problem – I was faced with the task of how to moisturize dry hair.
Factors affecting dry and brittle hair
Before proceeding to such a recovery course, I would recommend a haircut. If you are satisfied with the length, then simply trim, cut off 1-2 centimeters to eliminate dry and split ends.
The quality of the comb, of course, also matters. In my opinion, the best and most benign are wooden hairbrushes.
Of course, you need to comb gently, to tear the hair in any case is impossible, it will provoke even greater brittleness, and the hair will take on a completely unattractive look.
When this problem is better to abandon any tight hairstyles (not to mention the French braids) – tail, braids, beam and others.
When dry hair is strictly not recommended to wash your hair with hard water, especially hot. I was very lazy for a long time and tried to get around this aspect. It is much easier to wash your hair with water from the tap, rather than boil or dilute something in it.
But, faced with this problem, I decided that I need to correct the situation. Therefore, I began to boil water and add glycerin to soften it — for 1 liter of boiled water 1 tsp. glycerol.
You can choose another means – dilute 1 tsp in 1 liter of boiled water. drinking soda or in 1 liter of water 0.5 tsp. borax or ammonia. I am sure that with any composition after several washing procedures you will notice a tangible difference.
Drying and styling hair
It is better not to use straightening irons, tongs, hair dryers or other devices that have a thermal effect on the hair. This is undesirable even for healthy hair, and even for dry and brittle – even more so.
If you do decide to use a hair dryer, then it should be with the effect of ionization to protect the hair from drying out as much as possible.
Indoor air
The condition of the hair is also affected by the level of humidity in the room. Air conditioners often make the air too dry, but special air humidifiers, decorative fountains, aquariums – on the contrary, have a very beneficial effect on the room air.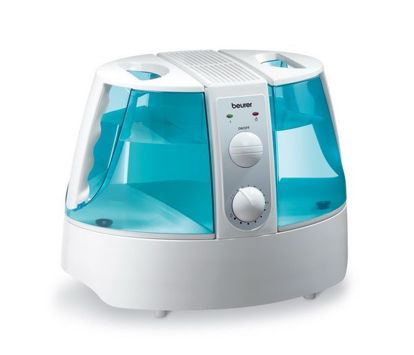 Unfortunately, I do not have a humidifier or an aquarium, but I found an alternative – indoor flowers. And beautiful, and cozy, and useful, including, and for the hair!
The sun
In sunny weather, hair must be protected from exposure to ultraviolet rays. If it is hard for you to do this, you can approach the solution of the problem from the other side – with feminine and feminine =)
After all, there are so many wonderful bright summer beautiful hats, panamas, scarves, hats! Due to this fact it was not at all difficult for me to change my habits.
Conclusion
Paying due attention to these factors, you will already make a tangible contribution to the restoration of health and beauty of your hair. With an integrated approach, this is especially noticeable.
Home rinsing
I always advocate that in addition to the use of cosmetics, do not forget about the popular recipes. The main thing – to find the option that will be right for you. Personally, in addition to the experimental path – the path of experiments and tests, until I found another to determine the appropriate means.
But as in the case of cosmetics – one thing will help, and the other is not, and with folk recipes – something will have an effect, but from something there will be no result.
Tea infusion
It is necessary to brew at least 2 liters of green tea. Cool it down. Rinse after washing hair. I also did an hour before washing my head with rubbing – like a lotion I rubbed tea infusion into the hair roots.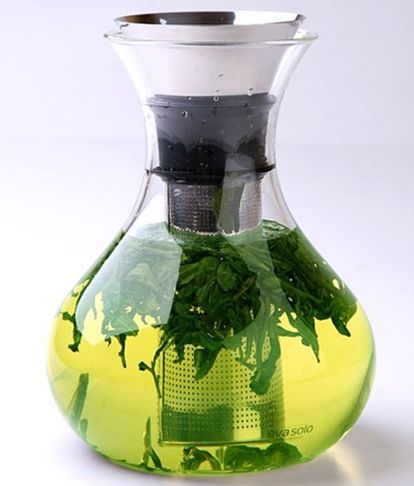 I was quite pleased with the result, but still I prefer herbal infusions.
Herbal infusions and decoctions
Herbal infusions also wonderfully moisturize hair, smoothing their water balance. For infusions and decoctions, you can use horsetail, nettle, chamomile.
I really like chamomile, but now I practice rinsing with nettle. After several rinsing procedures with a nettle extract, the hair began to look much better, that unpleasant roughness disappeared.
I prepare the infusion as follows: I brew 4 tbsp. chamomile or nettle 2 cups of boiling water, leave for 40 minutes. Then filter and let cool. The infusion is ready for use.
The decoction can be done using the same proportions, but by boiling 15 minutes on the fire, or even better, in a water bath. Then it is also filtered and cooled.
Rinsing with aspirin
I have not tried this option yet, but have repeatedly heard that it not only moisturizes the hair, but also makes it shine. For the preparation of this tool you need to dissolve aspirin in boiled water at the rate of 1 tablet per 1-2 glasses of water, and rinse the hair.
Of course, with problems of dryness and brittle hair, you need to choose and care for them from the corresponding series. Of paramount importance is shampoo.
Shampoo
I used the shampoo of the Belarusian company Ekstra Placental, it is called Shampoo-volume for dry and damaged hair. I like the cosmetics of this company, and this shampoo is no exception.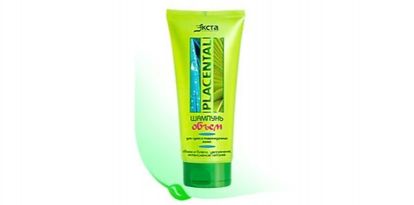 True, for some reason I have never met the funds of this company in ordinary supermarkets, only in specialized departments, where only Eksta and Floralis products are sold. Therefore, buying them is not so easy.
This shampoo perfectly moisturizes and strengthens the hair, gives strength and shine, and in addition to this serves as an excellent conditioner for hair. In short, my rating is 5.
Balm conditioner
With dry hair, I would recommend to use a conditioner with a balsam. When I was faced with the problem of insufficient moisture, I began to look for an appropriate balm.
I tried this product from the company Avon – a series of Advance Techniques, restoring a conditioner for dry and damaged hair. But was disappointed. By the way, I ordered it in a set with shampoo of the same series.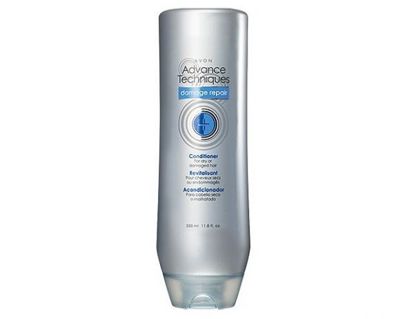 I did not like one or the other. I did not feel any moisture, as well as the brilliance and other charms that were promised. I do not presume to say that these are completely worthless means. Perhaps they did not fit me specifically.
More of the conditioners for dry hair, I could not try anything, since I decided to return to my favorite herbal infusions.
Thanks to such an integrated approach, I was able to return my strength and shine to my hair in 1.5 months, saving them from dryness and brittleness.
What tools do you use to moisturize dry hair?