Somehow a friend advised me a great way to give a chic volume to my hair: wash my hair, dry slightly, tie a tail higher and so go to bed. According to her, in the morning the volume will be simply amazing. And really …
… stunning – this is an understatement. I was like a stubble poodle. No, I, of course, love when my hair is slightly voluminous, but not to the same degree 🙂 So, girls, if you need head of hair to surpass Alla Pugacheva, remember this proven way;)
I decided not to experiment any more and use not such radical methods. But, nevertheless, they also help to create volume. So my ways.
Shampoo hair

Probably, this is the simplest means – I bought shampoo, washed my head and voila – a magnificent mane. And I buy the most common shampoo – Syoss or Schauma. Perhaps it depends on the type of hair, but on my volume it lasts for day 3.
How to dry hair?

Proper hair drying is another simple technique that helps increase hair volume. But there are some subtleties.
On wet hair apply a foam for the volume. But do not get too carried away with it, otherwise laying may seem heavy and unnatural, and the next day the hair will look dirty. I use a small amount of foam, about the size of a quail egg.
Next, dry hair dryer. But here there are 3 options.
1. Throw hair forward and dry. Sometimes I just hang my head down and chaotically drive a hairdryer. The volume is chic. But, of course, not the same as in Pugacheva;)
2. Use for drying a round comb with a large diameter. We take a strand, lift it up, direct the stream of warm air, then let it cool down a little and then release it from the comb.
3. Dry, lifting the hair at the roots with your fingers, slightly ruffling them.
How to do without a hair dryer?

Honestly, I rarely use a hair dryer, only in case of emergency, I really do not want to spoil my hair. Therefore, for me the best option is natural drying and curlers. I especially like the Velcro: they are convenient for twisting the strands. And to give the hair volume at the roots, they must be of large diameter.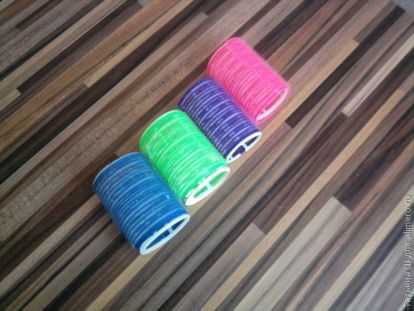 So what are we doing?
In the same way we apply the foam on wet hair. Then wait a bit until they dry out. Next, divide the slightly damp hair into strands, and spin each strand from the ends into curlers so that they stick at the roots. We are waiting for the hair to dry completely, and remove the curlers. You can fix the varnish, but without it the volume is kept perfectly and the hair looks natural.
And how do you make the volume at the hair roots?