I have long ceased to do the perm. For quite a long period of time, I considered it the only way that could make my hair more lush. Then she went out of fashion, and I began to learn to style my thin, completely devoid of volume silk hair.
What are my hair like?
For me, the term silk is not at all positive. You know, girls, when the hair is completely straight and with any manipulation of them they try to slip out of their hands, from under the clamp of the curling, from any hairpin, they don't want any silkiness. Styling my hair requires a fair amount of dexterity, as my hairdresser always says.
So, my idea is fix – volume. What interests me is not how to make the hair soft and silky, but how to make it more rigid and docile.
Fighting for a long time over the volume, I worked out some rules for myself:
1. I use shampoo only for volume. It does not matter what brand (it is always interesting to try something new), as long as there was the cherished word volume.
2. I never use balms, even if they are also with a volumetric effect. Whatever one may say, the balm makes the hair heavier, and this necessarily affects the volume.
3. To give hair stiffness and subsequent volume when styling, I always use foam or mousse (I also tried many different ones).
4. I reveal hair masks, after which the hair becomes stronger. For example, I really liked the effect of the mask with a mummy. After it, as if every hair was becoming thicker, which means that the hairstyle was more magnificent. The same effect was from henna, when she painted for a long time. True, I don't want to return to this color anymore. At the moment, I go with my family, untouched by any chemistry hair.
5. Never wash my head at night. Only in the morning or before a responsible event, if possible.
6. I dry my hair with a hairdryer, and then I put in a curling iron. Yes, probably, it is harmful, but … beauty requires sacrifice. Fortunately, my hair is not outraged by such harsh treatment. Less often they didn't become, they didn't cut (actually, I don't have any split hair at all), they didn't dry out.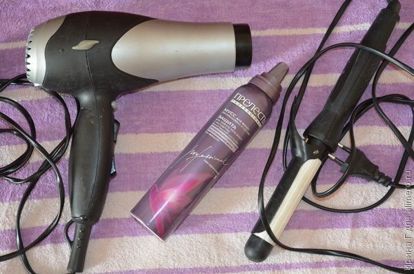 How do i style my hair
To at least have a day with a voluminous hairstyle, I do this:
1. My head shampoo for volume.
2. Cover the hair with a towel, lifting them up, and walk a little so.
3. Apply the foam on the hair.
4. I blow dry my hair with my head down.
5. I am laying my hair with a curling iron.
This method takes quite a bit of time and allows me to go 2 days with a more or less voluminous hairstyle.
It was interesting to hear from girls with the same hair as mine: how do you cope with them?