Recently, I again undertook experiments about hair color. My natural hair is light brown and for the last three years I have been highlighting. But I wanted to change and I began to actively look for my color.
In the summer it was blond, but lately I noticed that the hair began to turn yellow. In an attempt to somehow change the situation, I bought a paint on a sunny beach (this is something like a light-brown color), but it gave a tint that was almost identical to my natural one, but I don't like it. In general, I am again in search of a suitable color.
As far as I know, it will be safest to determine your color type and, depending on it, select a new shade of hair. As you know, there are 4 main colors. I rather take myself to the spring, with its description and begin.
The skin at the spring is light golden. Spring sunbathes quite well, and the tan turns out to be golden peach. Natural hair color – light blond with a golden shade, honey, red, bright with a warm shade. The eyes are most often green, blue, turquoise and hazel.
Spring is recommended to choose pale golden shades of hair: from sandalwood to the color of honey. Bleaching of strands will also look good. You can choose darker shades – caramel, chestnut, walnut. Almost all of them I once painted, but most of all I like it when my hair is lighter than my natural color.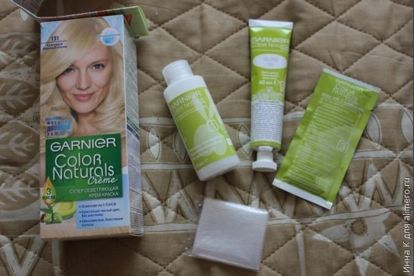 In girls of summer color type, cold shades prevail in appearance. The blush appears very bright and has a red and pink hue, and the skin itself always has a cold bluish backlight. In the hair color there is no yellowness, as in Spring color type, and the shade varies from straw to light brown with a brownish tint. The eyes are dominated by gray shades, sometimes there is a nut-brown color.
Girls of summer type can choose wheat shades of hair. And if you consider yourself to be a dark summer type, you can experiment and choose the shade of a black tulip, it will give your hair an original reddish shine.
Autumn differs from spring in brighter colors. By the way, I could not decide for a long time whether I belong to autumn or spring. The skin of autumn is of warm golden hue, and the freckles are of reddish. The main difference from spring is a badly sticky tan. Autumn girl is generally better not to abuse sunbathing. The hair has a reddish tint, and the eyes are green, amber-brown or amber-olive.
Tsvetotyu fall fit red shades, as well as chestnut and brown. Also, the color of sandalwood will look good. If you consider yourself to be in a darker autumn, you can try saturated red tones — autumn foliage, for example.
Winter is distinguished by a cold, porcelain, milky-white skin. Girls of this color type are pretty bad tan. Natural hair is most often of dark shades, and eyes are bright, blue, gray, brown or black.
Suitable hair color for winter – sharp, with a cold bluish shine. To give brightness to the image, you can use the shade of ebony, black tulip or forest beech. The latter gives a reddish tone. But from the red flowers is better to refuse.
You should not try to radically change your appearance and choose shades of hair that are not peculiar to you. Therefore, I will go and buy myself a lighter paint and become a blonde again.
And what hair color is you?