Owners of long hair, this topic is especially for you! Why? Yes, everything is simple, in fact. Now I will tell you how to be even more beautiful with you, how to make a comfortable and beautiful hairstyle on our long hair – a cone. Moreover, we will braid it ourselves, without any help. Think it's hard? It turns out no! Proved by my experience.
To make the spikelet easier and the hair less scattered, I brush them back. Since my hair is curly, it's even easier for me, they are more docile. But the owners of straight, unruly hair will be a little more difficult, especially if the head is clean. My girlfriend with straight hair often braids a spike on the second or third day after washing her hair, when her hair is not so scattered and easier to fit.
By the way, the spikelet is a great way to disguise dirty hair. You braid a pigtail, and you are beautiful again)))) I always do that if I don't have time to wash my hair in the morning.
So, we start weaving spikelet. Next, I will step by step describe how to do it myself.
1) I take a layer of hair from the top of my head (as shown in the photo) and divide it into three identical strands. In order to make it easier for me to explain, we will number the strands from the left ear to the right ear from 1 to 3, respectively.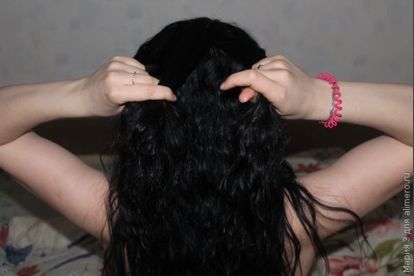 2) I throw strand No. 1 through strand No. 2 from above so that it is between the third and second.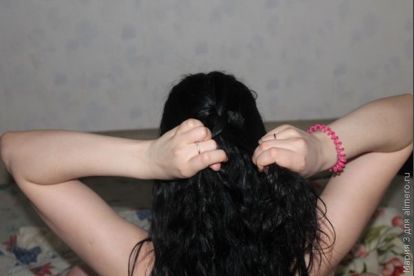 3) Then I strand the strand No. 3 through the strand No. 2 (so that it is between the first and second strands).
4) Then I put strand No. 2 between strands No. 1 and No. 3, after adding to it a small bunch of loose hair on the right side of the head.
5) Then I take the extreme strand again, just on the other side of the head, not forgetting to capture a small bunch of loose hair.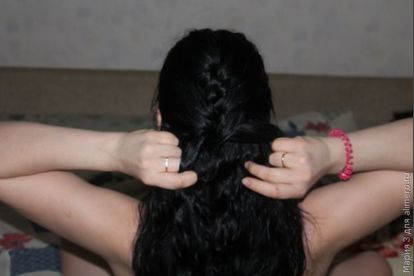 6) According to this scheme, I braid all the hair, gradually picking up loose strands in the spike until they run out.
7) When I dock to the base of the neck, I just continue to weave a regular pigtail and fasten my hair with an elastic band. If the hair is not very long, then you can hide the tip of the pigtails in your hair, pinned with hairpins. So, too, it turns out beautiful.
So everything is easy and simple! Of course, the first time you get vryatli everything will turn out nice and neat. I admit that I have a decent cone turned out only for the fifth time, but if you do not give up and practice, you can braid yourself such beauty in just a few minutes!