How to braid afrokosy yourself?


Absolutely all women can weave braids. In any case, you need to really try to find one that does not know how to divide the hair into three strands and weave them together. Afrokos differ from ordinary Russian spit only in thickness, quantity and the presence of decorating materials. To form such a hairstyle on the head is not difficult.
Weave or not weave – that is the question
A definite plus is a positive and unusual image. My pigtails were a bright blue. Very nice, I tell you, to see something funny and invigorating in the mirror, especially on Monday morning. Mood rises, the eye rejoices.
There are two main disadvantages. First: irritation of the scalp. Pigtails stretch their hair, their head itches.
Second: after unwinding the hair will have to be treated. Pigtails interfere with normal moisture, washing and other vital processes of the hair. Immediately after you decide to get rid of African joy, the hairstyle will look like a washcloth, which, admittedly, is frightening and not pleasing.
If you nevertheless decided to please yourself and those around you with afrokosichkami, and the specialist does not have the opportunity to be swamped, I can offer a brief instruction on weaving at home.
Choosing a material
Kanikolon (artificial hair) or regular thread. I did not try to stumble with the cannabis, so I will not give untested advice. Thread choose any. The main thing that they were quite thick and pleasant to the touch. I used acrylic knitting threads. In order to braid 200 thin braids it took 1200 meters.
Training
For each braid it is best to use the number of threads multiple of six, then you will not have to tie and hide the knots. Approximately we estimate the desired length of the pigtail, multiply by 2 + 20 cm. For example, if you decide to weave from 6 threads, for a 1 m long pigtail you will need three threads 2.2 m long folded twice. A very important role is played by the thickness of the thread itself. Therefore, the exact length of the thread is desirable to calculate experimentally.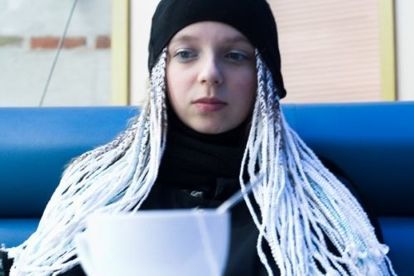 Weaving
We start at the lowest point of hair growth above the neck. Parting separates the horizontal row of hair. The rest can be stabbed so as not to interfere. Separate with a comb-comb one strand of the desired thickness, a small square. We divide the strand into three parts, fasten threads, weave. And so on until the hair runs out.
The tip can be soldered with a cigarette lighter or left, securing the knot.
Care
My head was washed only once a week. The braids dry for a very long time, and I was afraid to help them with a hairdryer, I did not want to increase the already negative impact.
Scratching is not necessary at all, and this is a plus.
Balsam and masks should not be used. But shampoo will have to stock up, and good. On the pigtails with threads it leaves just an incredible amount. I do not recommend replacing a normal shampoo with any kind of cheap filth for the sake of economy, because under the threads you hide your hair, which you don't want to spoil completely.