Probably, every woman faced the problem of hair loss. I have this problem pop up only twice: in the eighth grade, and now. The first time I solved the problem radically – I went and did chemistry, and the hair loss immediately stopped. Since now I do not plan to do chemistry, I offer you a recipe for a completely amazing oil hair mask.
I warn you right away – I'm not a chemist. Therefore, my mask is just an interpretation of a recipe read from the Internet. The main substances in our mask are essential oil of pine and dimexide. The first remedy resists hair loss, the second improves the effectiveness of the first. Dimexide improves the permeability of cell walls for all nutrients.
1) Pine essential oil (you can take some more, if you wish, for example, tea tree).
2) 4 oils of vegetable origin (I have almond, burdock, flaxseed, olive – but here you can also choose the right one for your hair type).
3) Vitamins – retinol acetate, tocopherol acetate.
4) Dimexide.
5) Measuring syringe for 5 ml (from my child nurofen).
6) Convenient packaging.
As a rule, dimexide is sold 99%. In such a concentration it can not be used, it is necessary to dilute with ordinary water in the ratio of 1 to 4, that is, the final concentration will be 20%. We take 1 ml of Dimexidum into a clean dry syringe.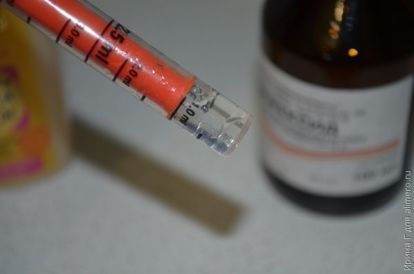 … then in the same syringe we take 4 ml of water and pour it into the container.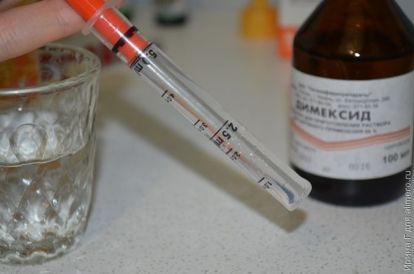 Since a 20% solution of Dimexidum in our mask should be 20%, then to 5 ml of the solution we add 4 more portions of 5 ml of different oils, I have just 4 types of them.
Then add 5 drops of essential oil to the resulting solution (no longer needed, it can burn) and then retinol with tocopherol, 10 drops each.
I use as a container a plastic tube with a thin spout, it is convenient for them to apply the mask, as the mixture has to shake constantly. Indeed, as part of our mask, water and oil, but they do not mix. I would not store in this tube (you never know what chemical reactions will take place during storage). Yes, and there are no preservatives in our mask, so as soon as they are prepared, we immediately consume it.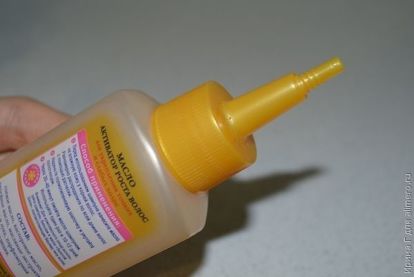 If you want to apply a mask made of glass containers, which is much better, then there will be certain difficulties with mixing an aqueous solution of Dimexidum with the oil mixture. That is, you will have to wield a brush and try to impregnate it with two phases simultaneously.
I put on the mask first on the roots, then on the entire length of the hair, I wrap it with polyethylene and a hat.
I warn you – if you feel a burning sensation, itching, any other unpleasant sensations, then immediately remove everything, wash your hair, and next time make a concentration of Dimexidum solution two times less. Listen to your body.
I hold the mask for an hour and then carefully wash it off with shampoo. I lather my head twice and massage very carefully.
The effect is absolutely amazing. Already after the first use of such a mask, the hair does not fall out AT ALL. A pair of hairs remains on the comb, although I used to get a decent lump from there. Like any mask, it can be done once a week. I will now use dimexide in all maksks, as it simply improves the digestibility of the active ingredients.
Well, will you experiment? 🙂