I wore a short haircut for many years. I visited the hairdresser at least once every two months, my hair looked thick and healthy. But a year ago I decided to let go of my hair. Since the scissors now touch my hair rarely, the ends of the hair began to split.
Of course, you can go to the hairdresser and cut them off, but my hair already grows too slowly. If I equate them every month, their length will remain at the same level. I decided to eliminate split ends with the help of folk remedies. I want to share some recipes with you, because this problem is very common.
Why are the tips split?
When I asked my hairdresser why the hairs split at the ends, I heard several reasons for this:
– frequent hair coloring
– the use of cheap, low-quality hair dyes
– improper nutrition
– poor quality comb
– overdrying by hair dryer, curling iron, ironing
– rare visits to the hairdresser
Cut Out Oils
I never thought that healthy, moisturized hair never splits. This was told to me by a hairdresser. If the hair split, it means they lack moisture and nutrients.
Well nourish hair with various oils. There are so many of them on the store shelves that it is very difficult to make a choice. Each manufacturer guarantees a natural composition and excellent results. I tried many such tools. Some were pleased, and some immediately went to the trash.
A friend advised me to buy regular burdock oil at a pharmacy, add a few drops of liquid vitamins and apply this mixture to the ends of the hair 30 minutes before washing my hair. Do not believe it, but the hair after such a procedure looks more healthy! I can not say that the hooked ends disappeared completely, but they became less noticeable and more alive to the touch.
I do this procedure once a week. If you have dry hair, you can distribute the oil over the entire length of the hair, but this method does not suit me.
Everyone knows that hot styling dries hair, making it brittle. But not every girl will donate beautiful styling for the sake of healthy hair. For example, I can't imagine my morning without a hair dryer. Therefore, she acquired high-quality thermal protection, which helps her hair to be styled, and at the same time not spoiling them too much with hot air.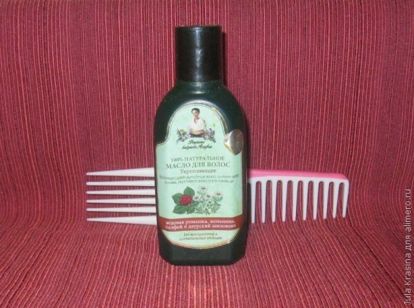 Plastic brush for hair with metal teeth, which I used to use, went into the trash. I replaced her with a wooden comb. Now I plan to purchase a brush with a ceramic coating. Due to the fact that ceramics does not heat up, hair stays much less when styled.
Hair care takes time, they are worth it! Already a few months after I began to apply oil masks for the tips of the hair, they made more healthy and attractive appearance.
And how do you get rid of the whipped tips?