The recipe for this hair mask was suggested to me by a hairdresser. It consists of several components that have a beneficial effect on the hair and scalp. The main component of the mask is honey.
I think it's superfluous to talk about the healing power of honey. It is believed that honey strengthens hair and enhances their growth due to its healing properties.
How I prepared the mask

For a hair length of about 60 cm for making a mask, I took:
– 1.5 tablespoons of honey
– 1 yolk
– 4 tablespoons of warm sunflower oil (you can also use olive oil)
– 1 tablespoon colorless henna
The honey was candied, so I melted it in the microwave 60 seconds before the liquid state. The main thing – do not forget to wait until cool!
He poured 2 tablespoons of boiling water into henna, mixed it, then added honey, yolk, sunflower oil and once again mixed it well.
Mask applied to dry hair. Part carefully rubbed into the roots. The rest of the mass distributed over the entire length. She pinned her hair with hairpins, covered it with polyethylene and wrapped it up.
She held the mask for about an hour, although the hairdresser said that the longer the better. It is possible for the whole night.
Then she washed her hair with shampoo and rinsed well with warm water.
Advantages and disadvantages

What you liked:
– after the first use my friends asked why my hair had such a shine;
– for the preparation of the mask almost all the components are always at home;
– minimal complexity of cooking.
What did not like the mask:
– after honey, hair was hard to comb.
I have curly hair that is very difficult to comb. Maybe another type of hair honey does not create such a problem.
Whom to thank for the result obtained from the use of honey? Here they, workaholic, collected real honey for us all summer.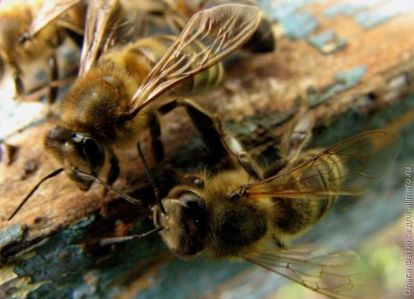 Experiments are ongoing.

Inspired by the zeal of the bees, here are some more recipes for honey masks that I definitely want to try.
For example, to improve hair growth, you can make such a mask. Grate a small onion on a fine grater or chop in a blender, add 2 tablespoons of honey, mix until smooth. Keep on hair 30-40 minutes before washing.
Against hair loss, honey should be rubbed into the hair roots and scalp, left for several hours, wrapped in a towel. Rinse with warm water, then wash your hair with shampoo.
There is also a recipe for a mask for dry hair: 200g of yogurt, 1 tablespoon of olive oil, 1 tablespoon of honey. Apply over the entire length of the hair and left for an hour. It is washed off as usual.
I will continue to experiment. And you?