I know one remedy that makes hair shine, enhances its growth and stops hair loss. What is this panacea? For me, this is a firming complex of oils. Homemade recipes.
Oils in hair care, I use relatively recently. Naturally, she started with burdock, but it was washed out of her hair for so long! Yes, and after his hair, I have some heavy and greasy.
I tried jojoba oil on the roots, and olive on the length. Somehow did not feel the action of oils. Then I began to look for ready-made mixtures and found oil complexes in ampoules.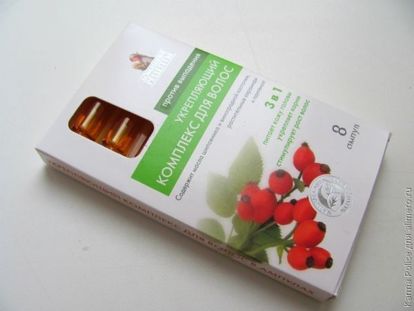 In ampoules there is a mixture of oils of grape seed and rosehip, vegetable ceramides and panthenol.
Grape seed oil is very useful not only for hair, but also for the scalp. It feeds the hair with amino acids, enzymes, vitamins C, B, P and regulates the sebaceous glands of the skin.
Rosehip oil has excellent regenerating properties, it stimulates hair growth. Thanks to plant ceramides, the hair shines. And panthenol moisturizes hair and restores them.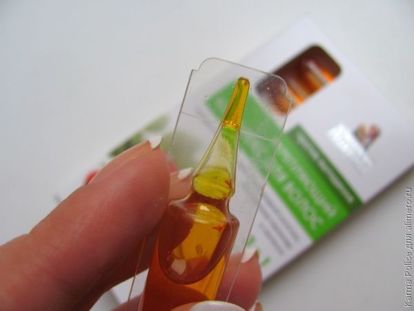 There are eight plastic vials in the box, each containing 5 ml of oil. It is an oil without silicones and petrochemicals. At the tip of the ampoule line, it must be broken, then the ampoule opens.
Oil of amber color, does not spread, but is very easy to apply. The smell, like many refined base oils, with herbal notes and a slight aroma of wild rose.
I used this tool first twice a week, as recommended by the manufacturer, and then less often. One ampoule was heated in a cup with hot water, then the spout was broken off.
Slightly pressing on the ampoule, put oil on the partings on the hair roots. Then carefully rubbed into the roots, put on a polyethylene shower cap, wrapped on top with a towel for warming.
The manual says that you have to be like this for half an hour, I kept the oil on my hair for an hour, and sometimes longer. By the way, the oil can be applied in a different way – rub in the palms and rub into the roots.
My hair is below my chin, medium density. I had enough ampoules for one use. The oil is surprisingly easily washed out of the hair, I washed my hair with shampoo twice – and no fat. On the contrary, it seemed to me that the hair stay fresh longer. The smell of oil on the hair is not.
I used two packs of this complex. The hair stopped falling out, began to grow faster, it looked more vivid, shiny and very pleasant to the touch.
The tool costs 60-80 rubles per pack, and this is a great price for a natural composition and effective action.