Most recently, I had a friend (mother from the playground), who, as it turned out, was fond of creating cosmetics from natural products. I was amazed at how much she does with her own hands. This soap, and masks, and cream. Today I want to share her recipes for homemade hair masks, many of which I have already tested on myself and on my older daughter.
In general, when I first asked my friend to give a prescription, she advised me to simply buy various essential oils at the pharmacy and to test, by practical consideration, which ones best fit my hair. She also recommended to buy aevit in capsules and add it to masks.
But I still wanted to get more specific recommendations, and then this girl told me about her other secret recipes for hair shine.
With lemon essential oil
I love to use lemon essential oil in personal care. And if you bleach the hair, like me, then the best means to give them a beautiful shade and prevent the appearance of yellowness, is not found. Just after washing, dissolve a few drops of essential oil in water and rinse your hair with this water.
And if you have dandruff, you can try the following remedy. Mix lemon oil, castor oil and almond. Heat the mixture and apply to the hair roots. Then wrap your head for 15 minutes and rinse. And you can just put a few drops of lemon essential oil on the comb, then your hair will not only be shiny, but it will always smell good.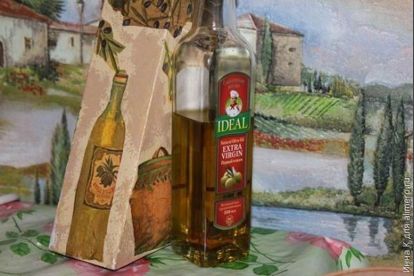 In general, olive oil can be used for hair, even in its pure form. I often just moisten the ends of my hair with them before washing. And on its basis there are many masks for giving live shine to dry and damaged hair. For example, you can take olive oil, mixed with egg yolk, honey and lemon juice. The tool must first be heated and applied to the hair for 2 minutes.
With jojoba oil
This girl also praised jojoba oil. With it, hair color becomes bright and rich. It can be rubbed into the hair before washing in its pure form or mixed with burdock oil. You can wash off the mask after 15-20 minutes.
Another friend of mine gave me a natural soap, which she made with her own hands. I never thought that you could wash your head with soap and not shampoo. I tried it and I liked it! Hair becomes soft, and I am sure that only natural ingredients are added to this soap.
And what kind of homemade hair shine masks do you know?