2.5 years ago in the topic In search of my master, I told you, dear regulars Alimero, how I found my hairdresser!
I've been with Natasha for 7 years. And everything is fine, I like everything for now … until I have a desire to paint myself in red. Whether these shades are more capricious, or whether Natasha has a relationship with them, I don't know.
In early October, on the eve of my 30th birthday, I again decided to become redhead. Before that, I had a complex shade – mix of coffee and caramel. I went with him for 1.5 or even 2 years. And then … I wanted something brighter!
Already in the first minutes after washing away the paint, I realized that it was nonsense. I liked the overall hair color, but the roots … and even not only them, but 5 centimeters on top turned out to be … bright yellow.
I still waited for the complete drying of the hair. But the miracle did not happen. So the next day, Natasha painted me again. She reduced her concentration … so what? Solvent or something else.
But still, as soon as I thought about how much ordeal my hair went through in the last 1.5 days, I felt sick! The only consolation was that I finally got that shade of hair that I wanted.

In the end, I decided to do homemade masks for the restoration of dyed hair. And my hair almost thanks to me for that!))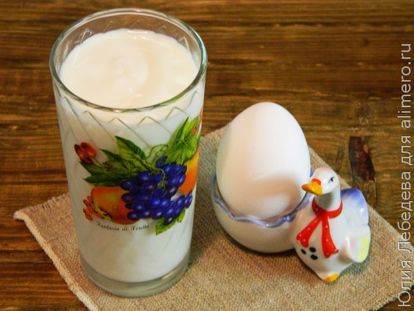 I admit, lately I have become splintered. I don't want to brew something, filter, heat, mix … So I chose masks the most simple, but effective! I am pleased to share them with you;)
1. Egg yolk.
My grandmother wore long hair all her life (except for the last two years). And even when she was completely gray, her hair was thick and lush! At the same time she has been washing her head all her life … with soap! Shampoos did not recognize. And the mask always made only one – from egg yolk.
Therefore, I always put this product on first place in terms of home hair care products!
So, the recipe is simple. First I go to the kitchen, separating the yolk from the white (the latter is not useful). I beat the yolk. I just beat it up. Without fanaticism. I take with me to the bathroom.
My head as usual – with the usual shampoo. I wash off. Then I rub the whipped yolk into the hair roots with massaging movements minutes 3. If you have enough patience, then 5.
I roll up the whole thing with a package and leave it for 15 minutes. Then wash off. Here water temperature is important – the best, is moderately warm. By no means hot!
Thoroughly rinse, dry. Everything.
At first, too, my head as usual, with shampoo, washed. Then apply kefir. But not only on the roots, as in the case of the yolk, but the entire length of the hair. I pinch the hair with a crab, put on a shower cap, wrap it with a large towel on top. It is important that the hair was warm all this time.
Leave for 40 minutes, and then wash off. It is advisable to do this just with warm water. But sometimes I have a feeling that the mask is not completely washed off. Then i take Little(!) shampoo and wash again.
For this purpose, I usually buy kefir with a fat content of 1%. In my opinion, it is perfect. Well, if not, then zero will do or vice versa fatter.
1.5 months later.
I alternate egg and kefir masks, and make them for one and a half months, somewhere every 5-7 days. By the way, I often rinse my hair after all the procedures with raspberry vinegar, which I prepared this year according to the recipe of Larissa 🙂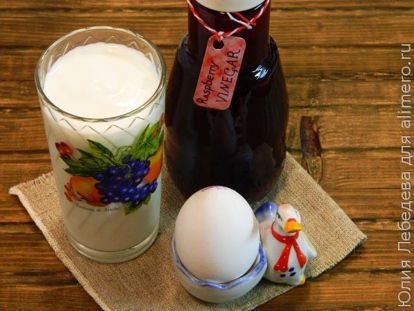 Very pleased with the result. The color during this time is not faded. The tips do not split, and the hair itself looks healthy and strong.
Girls, do you somehow indulge your hair after dyeing?