I love to take care of my hair, or rather, I love when my hair is healthy, well-groomed, without dandruff and split ends. I think that the best hair care products are herbs.
With the help of herbs you can solve any problems with hair: excessive fat or dryness, dandruff, loss, slow growth, and so on. I use herbs to restore hair, give it a volume and a pleasant shade.
In addition, herbs are a budget method that does not require large financial expenditures. Now there is no need to collect herbs in the forest, I buy all the necessary fees at the pharmacy.
For hair care, I use various herbs for rinsing, wraps and masks. When I had problems with hair loss, my grandmother suggested to me a folk remedy – a decoction of nettle.
Need 4 tablespoons of dry nettle pour boiling water, then infuse for about 20 minutes. After infusion, strain and rinse hair. This tool helped not only to make hair loss much less, but also proved effective against dandruff. Later, I noticed that this broth also improved hair growth.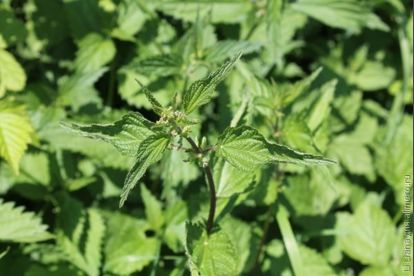 Sage rinse
Besides nettle, I like to use sage. I think this is an excellent natural hair conditioner. Sage has long been known for its wonderful properties. My mother loves to use it against hair loss and gray hair. But I use sage when I notice excessive dryness of the scalp.
To prepare the hair rinse, you must pour 2 tablespoons of this plant with a liter of boiling water and can be rinsed. I prepare the broth immediately before bathing, during which time he manages not only to cool down, but also to infuse.
Magic herbs

Coltsfoot – an excellent tool for the care of the scalp. This plant gives hair strength and healthy shine.
Another effective remedy is burdock. It helps with oily hair and dandruff. But oil from burdock roots is used against hair loss.
To soothe the scalp and give the hair shine, you can apply chamomile. It is also an excellent tool for stimulating hair growth and lightening.
Lavender is a beautiful and fragrant herb. It miraculously soothes irritated scalp, relieves itching, normalizes sebum production and is effective against hair loss.
Rosemary improves blood circulation in the scalp, providing nourishment to the hair and improving their appearance. It is also effective against oily hair. Decoction of rosemary rubbed into dry scalp.
Tips for making decoctions, rinses and masks for hair from herbs – a great many, but they are all alike. Each of us can find our own beauty recipes and use them for your pleasure.