Good night to readers of Alimero! Today I, by tradition, want to show you one interesting hairstyle. In any case, she seemed so to me. I peeped the idea on the Internet and, as usual, made my own adjustments. Here's what I got:
Today, my daughter went with a hairstyle in the garden. We listened to many compliments. It is curious that many asked how this hairstyle is done. And it is done quite simply. Now I will tell you how.
Getting Started 🙂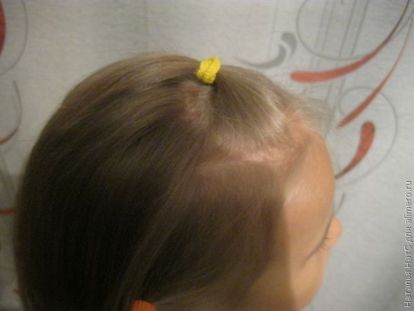 Slightly pull the gum back and divide the hair over it in half:


The free part of the hair is passed through the hole above the elastic and slightly tighten. This is what we should get:

Backing off another 3 cm, we again separate the hair strand, tie it with an elastic band and turn it out. Do the same for the entire length of the strand.
It should be 6-7, and maybe more twisted tails.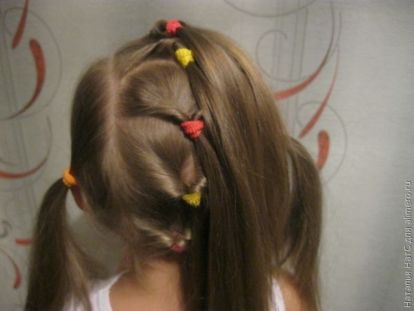 Now we dissolve hair on the one hand. We separate the small strand at the temple and begin to weave the usual French braid. From the ear we pick up a strand of loose hair, and from the inside we pick up a strand from the first twisted tail. Try to catch half.