Good Sunday evening to all readers of Alimero! I again want to show you my new author's hairstyle, which my daughter for some reason called Rainbow. This hairstyle looks very elegant. It can be done both in the garden, and for any holiday.
Getting Started 🙂
Separate the hair strand parallel to the forehead line. The width of the strand should be about 3 cm. Try to make the part as even as possible, because it will be visible at the end of the weave. We leave the strand, and the rest of the hair collected in the tail.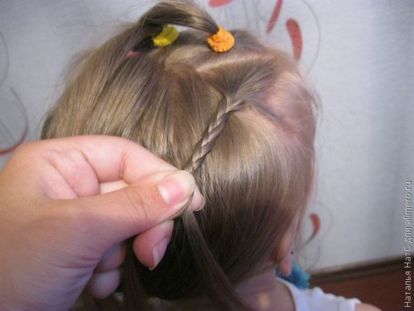 We need to weave this way 10-15 cm. Tie the edge with a rubber band. The color of the gum is not important to us, because then we will remove it.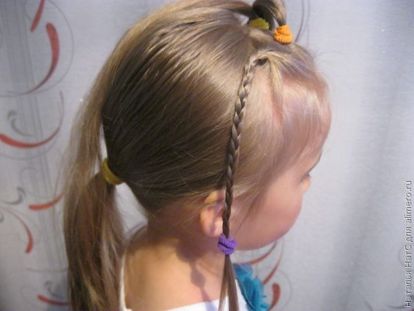 Of the remaining 3 strands we also weave a pigtail. You can do it a little differently: instead of the usual braids, weave the reverse French and pull the strands out of them to make the braids bulky. I think that this option will look even more spectacular. It is a pity that this thought came to me only now 🙂 That's what we should get.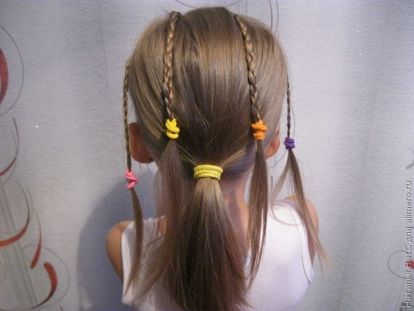 Now separate the small strand under the extreme pigtail and begin to weave the usual French braid. Its highlight is that we weave it diagonally.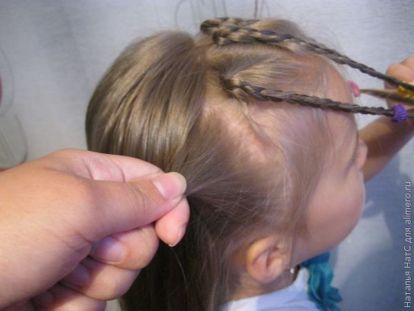 Having made several prolettes, we attach the nearest thin braid to our French braid. After the braid is woven, we remove the rubber band from it, we will not need it anymore.