A few years ago I terribly wanted to become a bright blonde and I decided to lighten my hair. Since the financial opportunity did not allow contacting a specialist, I began to lighten up on my own.
The result was not long in coming. Despite the fact that the hair acquired the desired shade, the quality left much to be desired. They have become very dry and brittle. Often, waking up in the morning, I collected small fragments of hair from a pillow.
After six months of such experiments, it was decided to return its natural blond shade and take care of the health of its hair. I will describe in more detail the methods that helped me put my hair in order.
Coconut oil for me has become an indispensable tool for hair restoration. This tool is rarely sold in regular stores, so I bought it in a professional online store.
When choosing oil it should be remembered that only refined oil can be applied to the scalp. Unrefined more effective, but apply it directly to the hair.
Do not recommend using coconut oil as a base. It is best to mix it with a few spoons of sour cream or kefir. After the first use, my hair became softer, moisturized and silky.
At bedtime, do not forget to comb your hair. This should be done in all directions, slowly, at least five minutes. Choose a comb from a natural tree with wide teeth. Plastic and metal brushes damage hair, confuse them and electrify. Thanks to such a simple procedure, the hair will become more thick and shiny.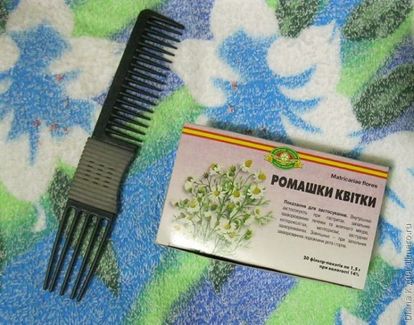 Washing and drying hair
Whenever possible, stop using the hair dryer and ironing. If for any reason this is not possible, use high-quality thermal protection. Hot air destroys the hair structure, making it brittle and lifeless. You should also remember that you can not comb your hair immediately after washing. When wet, they are most susceptible to damage.
Judging from my own experience, I can say that homemade hair masks often restore hair better than expensive professional tools. There are a lot of recipes for such tools, but I want to share the one that suits me the most.
To prepare a regenerating mask you will need: 1 tbsp. l. juice of onion, aloe and bulbs, 1 tbsp. burdock oil and honey, 2 tbsp. chamomile or burdock decoction. Apply the mixture evenly on hair and wrap with a towel. For better effect, you can warm the towel with a hairdryer. An hour later, wash off the mask with warm water and shampoo.
It is best to use this mask twice a week. In less than a month, your hair will become more well-groomed, shiny and silky!