In continuation of the topic about the manufacture of masks for hair, I would like to share with you masks of sour cream.
Sour cream is not only tasty, but also useful, not only for health, but also for human skin and hair. After reading on the Internet and interviewing my girlfriends, I learned a few simple mask recipes.
Sour cream masks are suitable for different types of hair, but mostly sour cream is ideal for rehabilitation of damaged and dry. Thanks to the healing properties of this product, the hair will acquire a magical shine and will become a better growth.
Mask number one – for dry and damaged hair.
Sour cream – 3 tablespoons
Raw egg yolk – 3 pcs.
Sour cream and egg yolk should be thoroughly whipped until a homogeneous mass. Apply the mask should be evenly along the entire length, on dry hair. Hold for 15 minutes, then wash it under warm water using a suitable shampoo.
To speed up the reaction and improve the effect, you should wear a plastic cap and roll your head in a towel.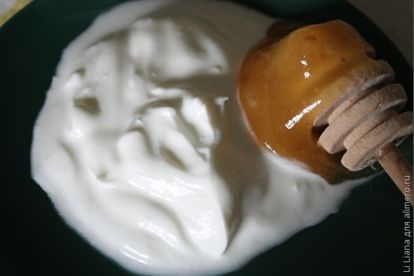 Mask number two – for hair restoration
Sour cream – 1 tablespoon
Raw egg yolk – 1 pc.
Potatoes – 1 pc.
Natural Honey – 1 tablespoon
Grate the potatoes and squeeze the juice. Mix the yolk with sour cream and pour in the potato juice and honey. Apply evenly on dry hair, put on a plastic cap and roll your head in a towel. You can keep the mask on your head for 30-45 minutes, and then wash it off with warm water using shampoo.
Mask number three – for strengthening falling hair and dandruff

Sour cream – 3/4 cup
Chopped burdock root – 1 tablespoon
A tablespoon of chopped burdock root should be boiled in a glass of boiling water and left to stand for about an hour; after this time, mix the sour cream and tincture of burdock leaves. The mask should be applied to clean damp hair and hold for 15 minutes, then rinse with warm water and shampoo.