Again with hair mess? Looking for something to treat them? Then you here. Today I will share with you some secrets. Or rather, recipes for masks. This time I have collected all the recipes I have tested or familiar to me that have pharmaceutical vitamins in them.
I'll start with firming masks, suitable for any hair. To prepare the first mask you need to take:
– vitamins B2, B6 and B12, one ampulka each
– one raw chicken egg (or a pair of quail)
– oils burdock, sea buckthorn and almond, in a tablespoon
Mix all ingredients well with a beaten egg, apply to the hair roots and distribute over their entire length. Put on a bathing cap and wrap your head with a towel. Walk like that for an hour and a half or two, and then rinse your hair thoroughly with your favorite shampoo.
Or another option. Prepare:
– castor oil, two spoons
– vitamin D, one ampulka
– yolks of three chicken eggs
Mix oil and vitamin and apply to hair roots so be like for half an hour. Then rinse your hair with lukewarm water and rub the egg yolks on your hair. Leave on for 2-3 minutes and can be washed off even without shampoo. Only water should not be hot.
Such masks can be done for three days in a row, then a ten-day break and again three days of procedures. After such treatment, the hair will become silky, shiny and strong.
Accelerate hair growth
For intensive growth of your curls, I advise you to use a nicotinic acid based mask. Take:
– aloe juice, a tablespoon
– nicotinic acid ampulka
– a spoon of propolis tincture
Mix, rub into the scalp with massaging movements, wrap hair for a couple of hours. You can wash off your favorite shampoo, warm water. You can repeat the procedure every other day. But it is better to do no more than ten times, because too much is also bad.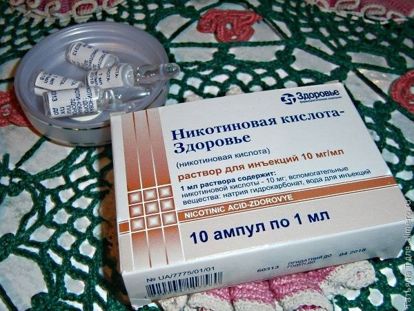 If the hair is dry
To moisturize dry hair, if it is also pestered, there is also a remedy.
You can use the following composition:
– oil vitamins E and A
– oil burdock and castor
– dimexide
– lemon juice
– two ampoules of vitamin B6
All ingredients except vitamin B6, take a teaspoon and mix well. Add vitamin to the mixture and apply on the scalp, gently massaging. Wrap the hair for a couple of hours. Carefully rinse with warm water with shampoo.
Another option:
– raw chicken egg yolk
– a tablespoon of honey
– spoon of aloe juice
– vitamins B6, C, B1, each ampoule
Apply the mask on washed wet hair, for an hour and a half. You can rinse without shampoo. One course – ten days in a row.
Well, actually, while all the recipes. Found something for yourself?