Rusa spit to the waist. I dreamed of this since school years. And my hair, unfortunately, grew very slowly. As a student, I decided to try on myself the pepper mask praised by many girlfriends.
First sample

The mask consists of only two ingredients – honey and ground hot pepper. Ideally, of course, honey is better to take May, thin. But I, for lack of such, just melted the remains of last year's honey in a water bath. For one procedure, four tablespoons was enough. On such a volume of honey needed a generous, with a slide, a tablespoon of red pepper.
I thoroughly mixed all this up to the formation of a slurry of a beautiful scarlet shade and gently applied it to the hair roots. Before that, I washed my head and put a mask on wet hair. I wrapped my head in a plastic bag, and on top also a bath towel. The most important thing was to endure forty minutes. And this, I tell you, is very difficult!
The girls, who have already experienced the action of pepper-honey mask, have boasted that in a couple of months their curls have become longer by five or six centimeters. But this, subject to the regular conduct of such a procedure, for example, every three to four days.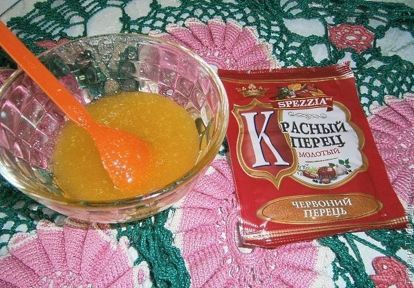 Impressions

Well, for the first time, my patience was over in half an hour. I washed my hair with running cool water several times, but it is not so easy to get rid of the burning sensation. Discomfort passed only in the evening (I made the mask exactly after dinner). So if you decide, I do not advise you to do it in the evening – it will be problematic to fall asleep.
I survived for two months, so great was my desire to have a long braid. Measuring the length of the hair after this period, I made sure of the effectiveness of the product (my hair was 4.5 cm longer). In addition, I was able to strengthen my curls and get rid of dandruff, which is annoying.
Two more masks

For those who doubt this combination of products or are allergic to bee products, I have found two more recipes in my notebook.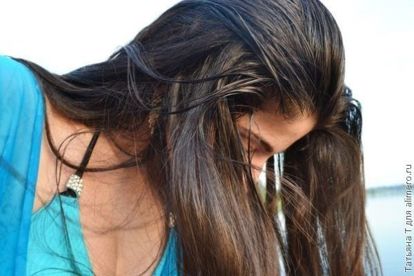 The first:
1. A pair of tablespoons of your favorite hair balsam.
2. One same spoon of castor oil.
3. The same amount of pepper tincture pharmacy.
4. Four tablespoons of chilled boiled water.
All this mix in a glass jar until smooth. Apply to the scalp with an old toothbrush or a special brush. But apply only to the hair roots, making parting, because such a mask dries hair.
And then everything follows the same scenario – they are wrapped up and endured (it can take a whole hour – if the bake is not very strong). But do not overdo it, you do not want to get burned? Two times a week for three months – and your hair will grow back faster, and their roots will get stronger.
Second:
1. Water, boiled hot – two tablespoons.
2. Sugar – a couple of teaspoons.
3. Vegetable oil (your choice) – two tablespoons.
4. The yolk of one chicken egg.
5. Ground red pepper – tablespoon.
6. Mustard powder – the same.
Mix in glassware until the mass becomes homogeneous. Apply preferably the same as in the previous recipe, but the time is much less, only half an hour. Rinse with warm water with your favorite shampoo. Two months, once every seven days, carry out such procedures, and the result will pleasantly surprise you.
R.S. The last two masks are checked and approved by my friends.
What do you think about the use of red pepper in cosmetology?