Since childhood, I remember this shampoo – egg. It was believed that it is very useful for hair. I know my mother used it. Did I wash my head with such shampoo, I do not remember. Having read about the benefits of chicken eggs, I decided to try masks of them myself.
Egg masks help hair to be protected. They have a good effect on the scalp, that is, the hair falls out less and grows better. It also helps prevent dandruff.
I have blond hair, dandruff is not observed. I can not say for sure whether the mask helps in this regard or not. That's about the fact that the hair falls out less, sure.
Features of the mask with an egg
There are a number of points to consider. For example, I realized that the most optimal result can be observed if you use exactly homemade chicken eggs. If you can not buy these, it is better to choose small options among the shops, because they are carried by young chickens.
The mask must be kept strictly for a certain time and at the same time rinse with warm water, even cool. If washed away hot, then the protein can curl and stick to the hair. Interestingly, egg masks are suitable for owners of dry hair and for those who have them, as I have oily. The fact is that the yolk has the ability to remove excess fat and at the same time moisturize dry hair.
The best hair masks from eggs
The simplest mask of this type is a mask of eggs and salt, so it can be applied to any type, and is aimed at strengthening the hair. However, it is better to use masks with the addition of various ingredients. First of all, you can use honey, and even brandy.
I only made it once, because brandy is not often found at home. But the effect is gorgeous from the mask, the hair became more obedient and acquired a special shine. In this mask you need only a teaspoon of brandy and as much honey. These ingredients are added to the egg that has already been knocked down. This mask can be held for more than an hour.
Also one of my favorite masks is the option with the addition of yogurt or sour cream. It is rather greasy and hard to wash off. One egg is enough 100 grams of yogurt or sour cream. To keep such a mask is fashionable for 15 minutes and immediately wash off. Hair combed easier and beautifully shine.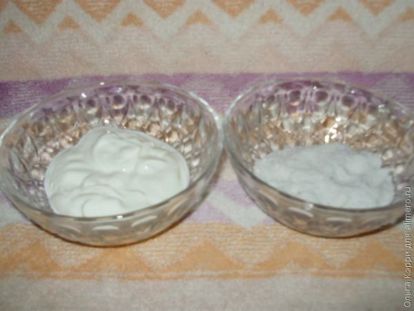 Interesting is also a mask with the addition of honey and aloe. Aloe juice perfectly fortifies and strengthens the hair, and with egg and honey the result will delight anyone. I like it very much, although sometimes I forget about aloe. The problem with this mask is that it has to be held for more than an hour to get a visible result.
Did you make masks from eggs for hair?