About this mask, I read a lot on the Internet. It is endowed with a bunch of different magical properties, starting with moisturizing, restoring damaged and dry hair, and ending with lightening hair. I decided to try it and check whether it really is so wonderful in fact, whether it improves the appearance and condition of the hair.
My hair

My hair is waist-length, curly and very spoiled by the rectifier. Since I am dyeing black from light, I was not particularly interested in the effect of lightening, but how much this mask restores hair – I was curious.
Cooking mask

I liked the recipe for this mask because it is easier to cook, and all the ingredients (honey and cinnamon) I have at home. Cinnamon I took 6 tablespoons, and honey 4 tablespoons. According to my calculations, for my length this should have been enough.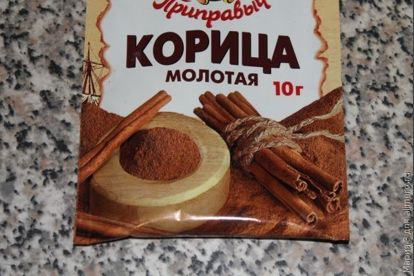 Then I thoroughly mixed all the ingredients until smooth, so that the cinnamon is completely absorbed into the honey. Since my hair is dry and damaged, especially at the tips, I added 4 more tablespoons of olive oil to the resulting mass for greater effect.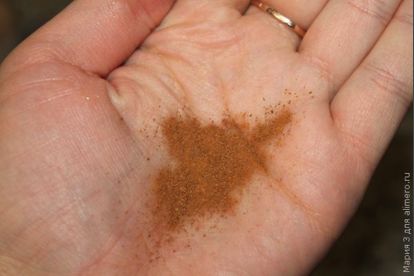 Masochka in action

I applied the finished mask to the roots, and then distributed it over the entire length of the hair. Following, shook her head with cling film and wrapped it all up with a towel. So I went about three hours, while doing different things about the house. True, the towel took off the hour through the floor, but it was constantly falling off the head and hindered.
Was there an effect?

I will say right away that my expectations about the clarification came true – there was no effect. But in terms of the health and well-being of the hair, this masochka pleased me.
1. Hair to the touch, after drying, was soft. The tips began to look much better, as if there was no bullying of the iron over them.
2. It accelerates hair growth due to the improved circulation of the scalp. This is definitely a plus because I grow hair.
3. Hair after this mask smell divinely! I love cinnamon, so for me it's a pleasure.
In the end, I can say that the mask of cinnamon and honey is good. Hair looks well-groomed, they are smooth, shiny, curly hair looks neat, easy to fit, keep in shape. To the touch hair is wet, they become less confused. And, of course, this smell) This is not a nasty onion mask for you)
Did you make yourself this little mask? Share how you get the result!